ALTOONA, PENNSYLVANIA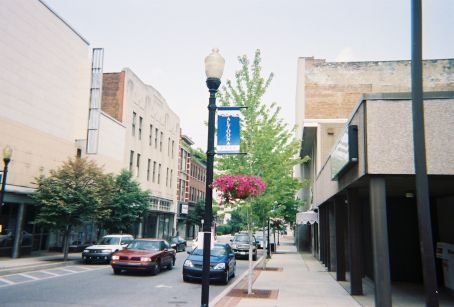 A banner celebrating the City of Altoona on what was once a busy street in the Downtown

Altoona used to be a very frequent destination for me in the course of my work every year. Typically, five or six trips each year, usually staying over for four or five nights each week for about five weeks for each assignment, was par for the course. I don't go there as much as in years gone by, but it was always a good place to go. Even with the downtown area deteriorating, Altoona always had interesting places to go. There's a first class amusement park for summers, along with a nice Class A minor league baseball park near the amusement park. The section outside the city, which runs along Plank Road, contains all of the venues that used to make up the downtown, restaurants, hotels, shopping centers, and a big mall. It was at the HoJo Inn, off Plank Road, where Mary Stu's Tavern was first uploaded to the Internet. There is still money in this former industrial and railroad city, it just moved from downtown to the outskirts. It is a story that is repeated in many Pennsylvania towns, including my own town, Oil City. These photos are scenes from the downtown. There are still pockets where there are remnants of activity. There's a plaza, built with state and federal grants, that some people thought would tempt more businesses to set up in the downtown. Now, Heritage Plaza is just a good place to be alone early in the morning to enjoy a cup of coffee in the peace and quiet.

SCENES FROM DOWNTOWN ALTOONA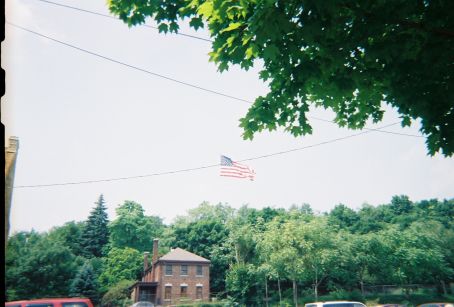 There is a steep knoll that overlooks downtown Altoona. This huge flag flies over it everyday.
The main Roman Catholic Cathedral in Altoona.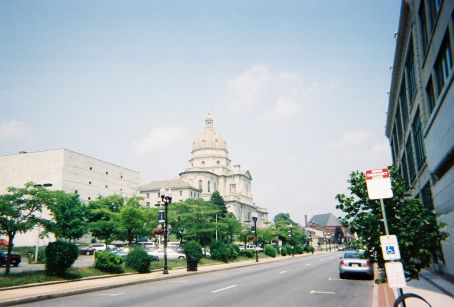 Another view of the Cathedral.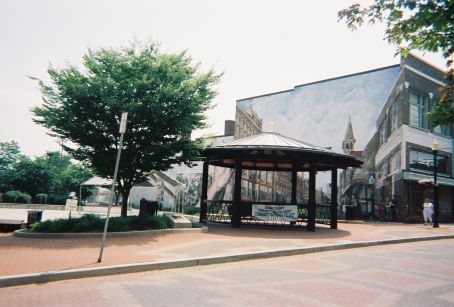 A gazebo in Heritage Plaza.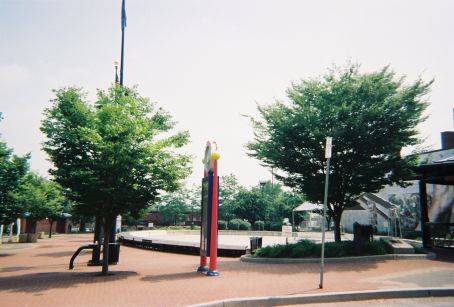 A view of the entrance to Heritage Plaza.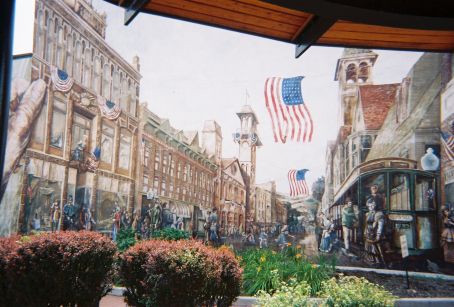 Close-up of a mural displayed on a wall in Heritage Plaza.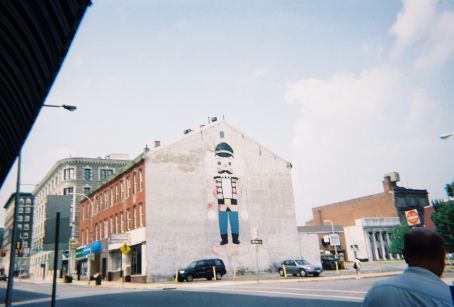 A mural of a toy soldier in downtown Altoona.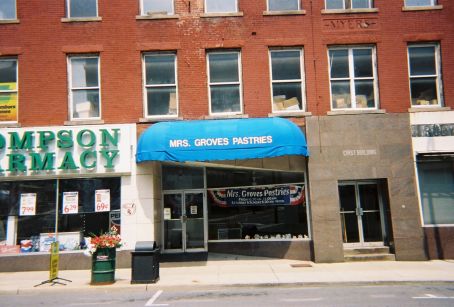 Mrs. Grove's Pastries--We used to eat lunch there a lot. In the summers, they had picnic food on a buffet on Fridays.

I have some older photos, about 1995, of trains pulling into the station downtown. I'll put those up as soon as they are digitized. I used to like to get a light lunch, sit out on the platform, and watch the people disembark the passenger train that came around 12:15 in the afternoon. I made quite a few friends in Altoona. Donna and Melanie at the Hojo Inn. Melanie is in Maryland now after graduating from college about ten years ago. I think she is married and a mom now. Donna has a daughter, but she still works at the hotel, which is now a Motel 6. Kara used to work at Mrs. Groves, but now she's a banker with a growing daughter of her own. She might be about six years old now. There's also Brenda, mother of five girls (I call their home "the sorority house"), Angie, Susan, and a lot of other good friends. There's also Dick and Carol and their kids, including Ranita, Julene, and Cara. There are still a lot of nice people in Altoona. There just isn't much to do in the downtown anymore.

STORIES FROM THE ROAD
THE DO-IT-YOURSELF EXTERMINATOR SERVICE
It was Fall 1992 and we were in Coudersport on a big job. There was about a six-person crew needing hotel rooms in Port Allegany, as there were no hotels in Coudersport. The Mid-Town Motel was jammed. Buses and cars full of elderly people were staying out that night to look at the leaves, or at least that was what I was told when I got stuck in a different motel for the first night. After dragging the bags in, I felt a pinch on my shin. Pullng up my pantleg, I saw a FLEA on the tube of the white athletic sock. The place was full of fleas. Shaking my head and muttering about why people can't just walk outside to see colored leaves, I walked to the local convenience store and bought two cans of Raid Flea Spray, and did a two hand fogging of the carpets. When the cans were nearly empty, I left for a few hours to let the insecticide "settle." It was about three hours, but, as you can imagine, there is lots to do in Coudersport. After all, I just did one of them.
On my return, there was no insecticide smell left, and since all of these years have passed and I have not mutated, it must have been okay to be in there. I looked all over, including under the bed where, to my shock, a huge black bug was lying still on its back with its legs in the air. I plastered the place. There shouldn't be a flea left alive, but I slept in my clothes to be sure. When I got to check out to move to the Mid-Town, they actually asked how I liked my stay.
"How about a fifty percent discount?" I asked.
"What for?" the clerk demanded.
"My fee as a flea exterminator," I replied. "Oh, and you better have a few guys go in there with a shoe box or something and take that dead black bug's corpse out from under the bed. Make them big guys, too. You don't want any hernias."
"It was that big? EEEEEE-EWWWW!" the clerk reacted.
"Well, I was thinking about taking the corpse myself," I said. "If I could find a taxidermist, the bug would make one hell of a paperweight."
ONLY ANNE HATHAWAY SHOULD BE ALLOWED TO DO THAT
In Pittsburgh during the week the Penguins won the Stanley Cup in the spring of 2009, I was sitting on a bench on Cherry Way, outside Oxford Centre, with an African-American gentleman who would make about five of me. We hadn't been there very long when some guy emerged from a parking garage across the street piloting this scooter-like conveyance that must of had a small motor driving it. The wheels were set on either side, so it looked more like a small ancient chariot without horses. The two of us watched the guy drive this thing up the sidewalk, across the street, and out of sight.
"There's something you don't see every day," I finally broke the silence.
The black guy laughed.
"It was okay when Anne Hathaway rode a scooter to school in that one movie she did, but she can get away with that because she's cute," I remarked. "That's why I watched the movie."
More laughing.
"I've never seen you around here before," the black man said. "What do you do?"
"I'm a soldier," I replied, "in the War on Poverty."