RAIDERS OF THE LOST GRAVESITES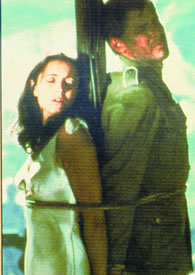 "Keep your eyes closed, Marion! I told him not to click on that link!"

I like "gravesites." Gravesite is the term for an abandoned Web site or home page that the owner has long since forgotten. The Web sites are still out there, and every once in awhile someone actually visits them. Now, just because a Web site hasn't been updated in ten years doesn't mean it isn't any good. Some of these sites were put up by students in high school who have long since graduated from college. Those sites give you a nice slice of someone's life in years gone by. There is one site that a girl put up for fans of Mary-Kate and Ashley Olsen that will be ten years old in November 2009. There is a crawl announcement on the bottom of the index page that describes the date of the last updates to the site and what the updates were. The crawl still runs perfectly and has since 2001. Like so many gravesites, the Olsen Twins site is actually very nicely done. Those are the ones that leave me wondering if the original makers of the sites even still think about them, or even visit the sites any more. There are so many Angel Fire sites because I bookmarked a "node" from the master index to all Angel Fire sites. This node is like a treasure map to abandoned Web sites and home pages.
Life changes for everyone, and personal interests change as well. One day you are an active Olsen Twins fan, and the next day you are (probably) a junior in college and thinking about anything BUT the Olsen twins. That is probably the biggest reason why these sites just sit out there going months or years at a time with no one visiting them. Looking for the good ones is sort of like "Internet Archeology." Every once in awhile, there is a good find.

THE BEST OF THE GRAVESITES
JOIN THE "RAIDERS OF THE LOST GRAVESITES!"

THREE RIVERS STADIUM--OFFICIAL SITE
THE COMPANY THAT MANAGED THE STADIUM DECLARED IT WAS THE STADIUM'S LAST YEAR--12 YEARS AGO
Don't get me wrong. I'm glad that the former owners have left this site standing long after Three Rivers Stadium was imploded. There is nothing like stumbling onto a Web site for a place you remember well, but is now long gone. It is almost like a piece of frozen time to find an official site like this one about a long destroyed sports stadium that held so many old sports memories. I hope they never take it down. There used to be another for the old Civic (Mellon) Arena, where the Penguins used to play, but whoever left the Web site on-line, which included a seating diagram, got embarassed when the site's continued existence was exposed in a local newspaper right along with this Three Rivers Stadium Web site. Thankfully, the owners of the Three Rivers Site left it right where it was. They had to renew the Domain Name at least three times since the place was blown away over 10 years ago. Enjoy.

HOST SERVICE: ANGEL FIRE/LYCOS
A man took his wife all over Upstate New York and down the Delaware River to New Hope, Pennsylvania, where their adventure ended in an oxygen bar!
These are really great pictures and worth a look. Last update was the launch year 2004

HOST SERVICE: ANGEL FIRE/LYCOS
This site is almost ten years old now. There have been less than 700 visitors according to the counter that still functions. This had to be the 1999 inspiration of what is called a "tween" girl, named Amy, of about 10-to-12 years old. She would either be in college or graduated now, and maybe married. All of that happened while this site was out there waiting for MK and Ash fans to visit and join the site operator's club. Everything on this site still works. Last updated in 2001.

HOST SERVICE: ANGEL FIRE/LYCOS
Mary Elizabeth Scott was a friend of Holly Ingle when they attended the same Alabama High School. Mary Elizabeth moved away and put up this site about her new school and friends.
This is another high school yearbook site, another nice look at a part of someone's life that is now a part of the past. This girl has no "teen angst!" Last updated in 2002.

HOST SERVICE: ANGEL FIRE/LYCOS
This girl put this site up to celebrate her family and friends. It is basically a photo album. I thought of a box full of pictures I found in my parents' house over last fall when stumbling on this one.
Estimated Creation Year: 2004. Any updates did not include a date.

HOST SERVICE: ANGEL FIRE/LYCOS
"Opheliac" is a young woman living in Minneapolis, Minnesota during September 2002. She put up this nice little site of photos and some writings about things she likes and cares about. This site was made by someone who seems to be very nice and comfortable with her life during the time she uploaded "Opheliac 9."
UPDATE: MEET THE REAL "OPHELIAC 9"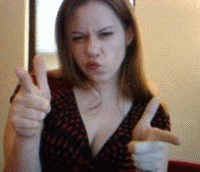 Hannah, of Minneapolis, Minnesota
The young woman pictured above is the one behind "Opheliac 9." If you put "Opheliac 9" in the Google search engine, you will find more than one blog maintained by Hannah. Hannah is a "foodie," which means her blogs contain many tasty-sounding recipes as well as many other interesting observations. If you have some time, check out some of the prolific entries Hannah has made to the Internet over the past ten years.

HOST SERVICE: ZERNEBOK HOSTING
WEBMASTER: DONALD LANCON, JR.
This is one of the older sites on the Web, dating back to about 1995. This is one huge database about the two television shows on which Melissa Joan Hart was the star, Clarissa Explains It All and Sabrina the Teenage Witch. Just about everything anyone would ever want to know about the shows is on this site, which goes on for many pages. What is really special about the site is that it retains the early look of the dial-up world of the early Internet. There isn't any Java or Flash stuff on the site. Some pictures and a lot of links and text. If you like MJH and were a fan of either show, this is the site for you. Last updated in June 1998.

HOST SERVICE: ANGEL FIRE
WEBMISTRESSES: CHRISTY AND RACHEL

This little site was first uploaded in approximately 2002, according to the old guestbook entries. Christy and Rachel were part of a YMCA All Star Cheerleading group somewhere in Alabama. The site received close to 12,000 visits over the years. Some of the girls still signing the Guestbook think Christy and Rachel are still maintaining the site, but that was over seven years ago. I don't think the girls cheer at the YMCA now. They are probably cheering in college, or doing adult things. The last guestbook entry to ask for cheering advice was in 2008! The only problem with the design was in the color of the text on the front page and on the Cheerbook page. The text tended to blend in with the backgrounds and were hard to read. Other than that one problem, the site is very clean and easy to follow. The pictures showing the different jumps illustrated them well, and the girls provided good descriptions of how to execute the jumps. This is a good nostalgic site for older girls and women who were once young cheerleaders.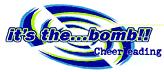 HOST SERVICE: ANGEL FIRE
WEBMASTER: JOHN (LAST NAME UNKNOWN)
This Gravesite is kind of special. Around the turn of the TwentyFirst Century the operator of this site, dedicated to the old television series Beverly Hills, 90210, set a countdown clock for when the Grand Finale episode of the long-running show would be shown in May 2000. Well, after the last ever first run episode was over, apparently the owner of the site lost interest, but the clock kept running for the past 12+ years. It is now a (Negative) -4,492 days UNTIL the last episode of Beverly Hills, 90201.
I guess that means the show has been gone for a long time. Over 12 years, I think. Some of the original cast are probably thinking about 401K accounts as middle age is creeping up on them and has been for the last 4,492 days.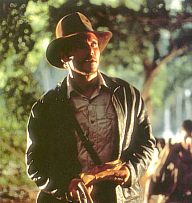 "Don't worry. I'll find more of these things!"