MAGGIE THE CAT


The first of three acts belongs to Mary Stuart Masterson who, as Maggie, burns with a passion and sense of desperation in the face of her husband's passionless degeneration and neglect. Masterson masters the trick required by Williams stage directions in which he says "her voice is both rapid and drawling . . . always continuing a little beyond her breath so she has to gasp for another." She uses this seeming idiosyncrasy as a spring board for demonstrating the unique mixture of regret, passion, pride and love that makes Maggie such a compelling character. The depth of feeling established in her first act gives her the basis for the strength she demonstrates in the climax. She plays most of her scenes with Jeremy Davidson as the disconsolate inebriate Brick, who drinks to get to the point where he hears the "click" in his head that signals release from the pain of memory. The role of Brick is always a difficult one for so much of it is played in support for either Cat or Big Daddy but Davidson makes it a solid presence throughout the entire play.--www.potomacstages.com

THE KENNEDY CENTER

Claudia Kehl and I watched the play from the center section of the orchestra seats. Claudia was in row C and I was in row D. For a seating chart and an on-line tour of the Eisenhower Theater, click on the "Cat on a Hot Tin Roof" logo below.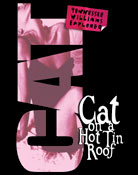 GO SEE A PLAY OR LISTEN TO SOME MUSIC AT THE KENNEDY CENTER ON YOUR NEXT TRIP TO WASHINGTON, DC.
THE ARTS ARE FOR EVERYONE!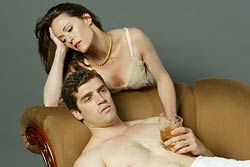 In the first act, Maggie (a surprisingly busty and brunette Mary Stuart Masterson) works hard to engage Brick (Jeremy Davidson) in the tasks at hand: producing an heir and staking a claim in the family fortune. But the former football hero is more interested in polishing off a bottle of whiskey, and babying the ankle that he broke in a drunken spree the night before. --Patrick Folliard, Washington Blade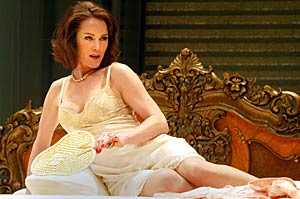 Claudia got home to Switzerland after a rain-delayed layover in New York. She immediately updated her Mary Stuart Masterson site with "Cat on a Hot Tin Roof" articles and links. Drop in and say "hello" to Claudia at her Web site by clicking on the link below. Part of the enjoyment of the play was having some good company along to enjoy it with, so if you find yourself in Washington, DC between now and July 4th, enjoy Maggie the Cat with family and friends.
CLAUDIA'S PLACE