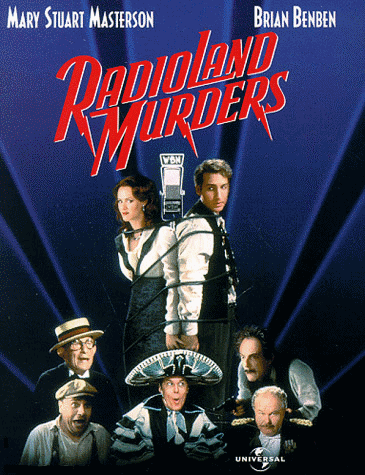 Welcome to my tribute to one of my favorite movies: Radioland Murders. Radioland Murders is the story of Roger Henderson and his soon-to-be ex-wife Penny (played by Brian Benben of Dream On and Mary Stuart Masterson of Benny and Joon, respectively) who work at a brand new radio station in Chicago, WBN, in 1939. Penny is the owner's secretary, and Roger is a writer. On the eve of its first broadcast, Penny must satisfy the needs of all the new sponsors, while Roger has to make last-minute changes to the scripts. Just as the show begins, one of the musicians in the orchestra mysteriously dies. And then one after the other at the station drop dead. Nobody knows who the murderer is, although Roger is suspected. So the entire night, Roger (with the assistance of a goofy young usher named Billy) must find the murderer, stay away from the cops that are roaming the building, make dozens of script changes, and try to win his wife back.
What I really liked about Radioland Murders is that it's a fast-paced comedy that's a lot different from normal comedies. It isn't fun everyone - many of you out there will hate it... but if you won't, you're really like it.
Radioland Murders also has an enormous selection of well-known co-stars, including Ned Beatty, Brion James, Michael Lerner, Michael McKean, Jeffrey Tambor, Christopher Lloyd, Larry Miller, Bobcat Goldthwait, and Corbin Bernsen, as well as many great cameos, including Harvey Korman, Peter MacNicol, Joey Lawrence, Billy Barty, Candy Clark, Bo Hopkins, Rosemary Clooney, and George Burns in his very last performance.
Sadly, the critics didn't like this movie very much. It was shown in a fairly limited release, and was one of the biggest bombs of 1994. However, I personally do recommend you try this movie - you can rent it at most videostores, or you can order it for less then $10 at Amazon.com.
Please try the sections at your left, and if you have any further questions or comments, be sure to e-mail me.
---
Updates:
12/1/98: This page has been launched!
---