SAN FRANCISCO--EASTER 2005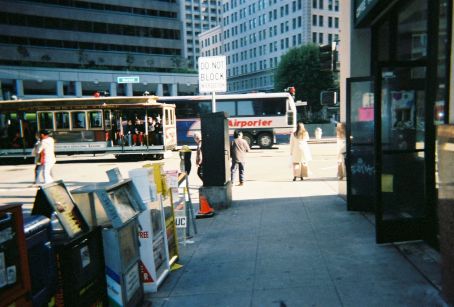 Cable car starting to move in front of our hotel.

It was shortly after this trip that I made the decision to suspend updates to Mary Stu's Tavern indefinitely as a family crisis began demanding more time. There was an entry about this trip on the FYI page that remained the last entry until almost four years later in April 2009. That entry is in the FYI Archives pages, number 15. A lot of these photos were affected by evening twilight's receding light. The effect was okay in one of the Chinatown pictures, but a disaster in others. This trip actually started in Pittsburgh on the day before Good Friday when I checked into a hotel near Pittsburgh for my annual attendance at Mary Mother of Mercy church in Gateway Center, Downtown Pittsburgh, for confession, penance, and the Good Friday service and communion. I stayed over Good Friday night to catch my plane to San Francisco on Holy Saturday morning.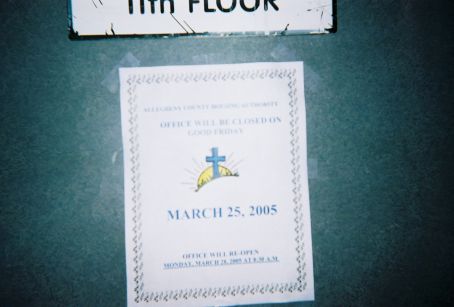 A notice that employees of the Allegheny County Housing Authority have Good Friday 2005 off work.
This was taken in the elevator of the parking structure while on the way to Good Friday service.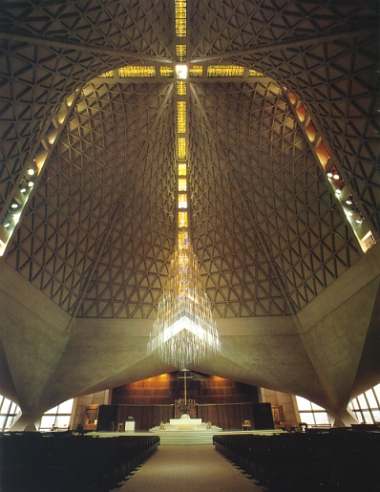 Interior of the Cathedral of Saint Mary of the Assumption in San Francisco where I attended Easter Mass.
For other photos, please visit the Cathedral's Web site. The Etching on a Tabernacle read: Ecce Agnus Dei (This is Lamb of God).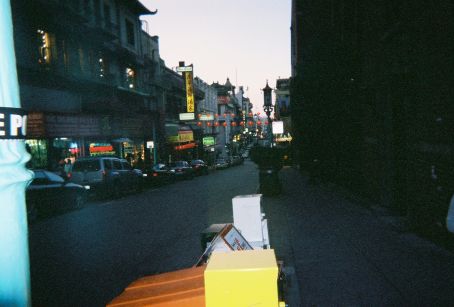 Chinatown in evening twilight.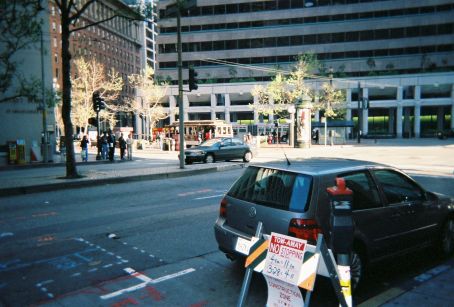 Distant view of cable car.

Sorry, folks, but a malfunction in the camera cost me every other exposure I had. It was a real disappointment, because I haven't gotten back there to replace the photos I lost. Someday, I hope to go back again. Until then, only my posting in the FYI Archives, Page 15, and these few salvaged photos remain. The one of the Cathedral's Ceiling Cross comes from the Cathedral's Web site.

ANOTHER TASTE OF LIFE ON THE ROAD

STORIES FROM THE ROAD
ROBERT MITCHUM DURING HAPPY HOUR
There are two stories this time. One goes back to before I was hired by my present employer for the last 24 years. A couple of the guys who were here before me, and retired, were working in the Uniontown, Pennsylvania area. They stayed at the Holiday Inn just outside Uniontown. This was in the mid-to-late 1970s, and there was a major movie being filmed there, Maria's Lovers. Besides Nastassja Kinski in the title role, there was the actor who played her father, Robert Mitchum. Mitchum liked Happy Hour in the Holiday Inn bar, and so did our guys. They spent an evening talking to Mitchum about all the things we all talk about in addition to Robert Mitchum's life and career. You never know who you will run into on this job.
THELMA AND LOUISE
I found myself in Smethport in 2007, and decided to stay in Port Allegany, a few miles away, so I could stop in and visit with my friend, Kristi Thomas, at the restaurant where she worked in East Smethport. There was also a community concert in the park in Port Allegany, and those kind of hometown things always interested me. The problem was it was pouring down rain. After checking into the MidTown Motel's new section, I walked downtown, and the concert was still on despite the rain. One of the organizers was trying to get some of the food carts under cover. I strolled over to her and said, "It's raining here in Lake Woebegone, my hometown." That cracked her up. The concert wasn't bad in spite of the rain. The next morning was when I met Thelma and Louise. No, they weren't two dangerous women on the run, looking for Brad Pitt ( I would have been safe.). No, they were two rambunctious Labrador Retrievers. They adopted me. Thelma and Louise were outside my door every morning and would bound through the room until their owner, who also owned the motel, called them out again. The dogs would wait for me to come back after work to play run and fetch. They knew my room and my car. I brought two rawhide bones for them, and they were immediately teleported to canine paradise. Just two more friends I made on the road.