FAVORITE TV SHOWS THROUGH THE DECADES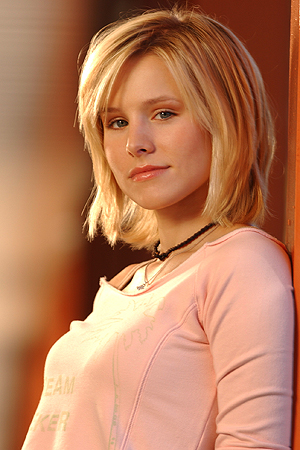 Kristen Bell as Veronica Mars
Favorite Show 2005 - 2006

Ah, television! I keep saying I'll quit watching, but even when I got hooked on Big Band music and listened to WNUF-FM radio in Pittsburgh most of the time, along with some sports talk shows on the radio in the late 1970s, I still tuned in every Friday night to my favorite television show, The Rockford Files (1974-1980). There were a few years when I didn't have a favorite show because you get tired of them going off the air, especially when they are as good as China Beach (1988-1991). Starting with Rockford, we'll tour my personal favorites up to the present day.

THE ROCKFORD FILES
FAVORITE SHOW 1974 - 1980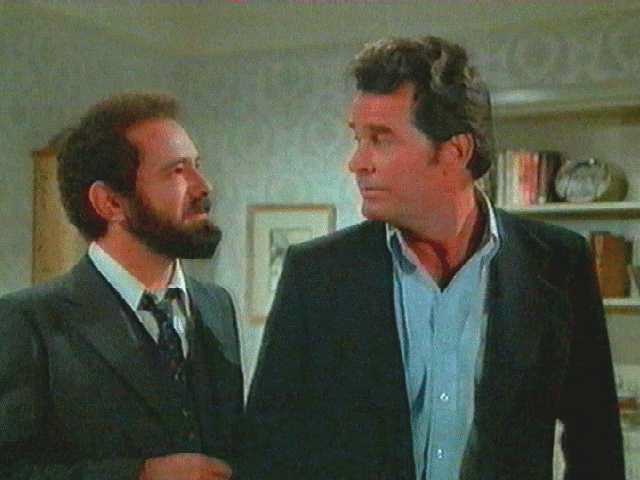 James Garner as Jim Rockford, Los Angeles Private Detective, and his dubious friend, Angel Martin (Stuart Margolin)
The Rockford Files was one of the best written shows ever on US Television, thanks largely to writer Juanita Bartlett. Roy Huggins, who was involved with creating James Garner's Maverick, came up with the concept for the show. Rockford was one of the best acted shows in television history, with James Garner in the title role; Noah Beery, Jr. as Jim Rockford's father, Rocky; Joe Santos as Lieutenant Becker, Jim's LA Police detective friend; and Stuart Margolin as Jim's old friend from prison, Angel Martin. Margolin's Angel was always getting Jim into two or three hilarious jams each season. Those were among my favorite episodes. It was only 1974, but the female characters on the show were never just sitting around acting like eye candy. They had real careers and were independent for the period the show was produced. Rockford even had a woman, Beth Davenport, as his attorney. Besides Angel's many failed con games ("JIMMM-EEEEE!! You gotta help me, man!"), my favorite episode of all was The Italian Bird Fiasco. The Rockford Files is available on DVD and is also accessible on the Hulu Web site.

MAGNUM, PI
FAVORITE SHOW 1981-1988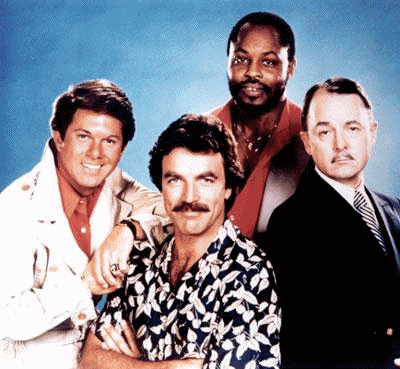 The cast of Magnum, PI with Tom Selleck front and center.
It was a natural transition from having Rockford for a favorite show to Magnum, PI taking over after Rockford left the air in 1980. Some of the people behind Rockford were also responsible for developing Magnum. Tom Selleck had been a recurring character, private detective Lance White, on Rockford. Don Bellisario was the mastermind, and his shows have pretty much followed the same forumla of a main character surrounded by loyal, but somewhat dysfunctional, friends. NCIS is the latest show Bellisario helped to create and you see the same dynamic at work as in Magnum. Charles Floyd Johnson, who was also behind the camera for Rockford, helped Bellisario helm both Magnum and NCIS. In 2002, Tom Selleck took the title role in a favorite movie-for-cable of mine, Monte Walsh.

CHINA BEACH
FAVORITE SHOW 1988-1991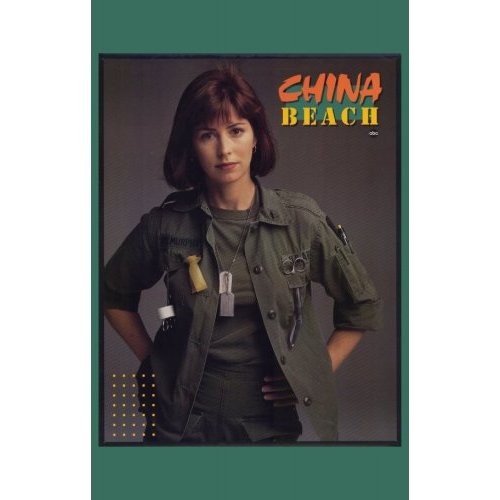 Dana Delany as the Army Nurse Lieutenant Colleen McMurphy in China Beach
This show was probably my favorite of all of them. There was just something about Dana Delany's Colleen McMurphy. I had to see what was going to happen to her next week. When someone asked me what I had planned for a Wednesday night, I replied, "I have a date with a nurse named McMurphy," and, as long as China Beach was on Wednesday nights, I never stood her up. I named the building in Royersford, Pennsylvania where my apartment occupied the top floor as "China Beach," as it was my "Rest and Relaxation" (R&R) center. The title of the show refers to the actual China Beach R&R area near Da Nang, Vietnam, which included an Army Evacuation Hospital.
The man is Brian Wimmer, who played "Boonie Lanier" on the show, and the redhead is Marg Helgenberger of CSI.
Brian Wimmer has his own China Beach site on Geocities. Brian, get that site out of there or back up your files NOW!!

THE LAZARUS MAN
FAVORITE SHOW 1996-1997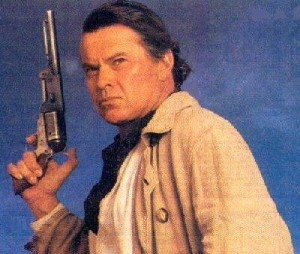 The late Robert Urich as The Lazarus Man.
The Lazarus Man sort of sneaked up on me. It was at the beginning of a harsh winter in 1995-1996 that I first started watching the syndicated Western that was developed by Castle Rock and shown several times each week on Ted Turner's TNT channel. Lazarus, a former bodyguard of President Lincoln and Union Army secret agent in the Civil War, has to dig his way out of a grave in which he was buried alive, "left for dead." Lazarus has no memory of his past, and adopts the name Lazarus for the relative Jesus brought back from the dead. Lazarus, in wandering the West trying to piece together his identity, has many encounters with other people with troubles as big as his own. My favorite episode was The Journal. Lazarus finds a dead prospector's journal before riding into yet another town, this time in Colorado. Lazarus finds that the man who owns the saloon, hotel, and bank in the town was actually the miner who wrote the journal who was now defrauding his partner's starving widow and children of their share of the miner's bonanza. The way Lazarus made things right in that episode made me write to Robert Urich's widow after the actor passed away from cancer. Mrs. Urich had put up a Web site and solicited comments from visitors about her husband's work and memory. I remembered an obituary to Roy Rogers and quoted one passage of it in my e-mail to Mrs. Urich. The writer contrasted Roy Rogers to some of today's TV and movie "heroes." Only Roy Rogers was the kind of man you wouldn't mind taking home to the family for Sunday dinner. I told Mrs. Urich that her husband's Lazarus was exactly the same kind of hero. "You wouldn't invite Rambo or some of Schwartzenegger's characters home for Sunday dinner, but you would never hesitate to invite Robert Urich's Lazarus."
The show was cut short as Mr. Urich began his battle with the rare form of cancer that would later take him from his family, and from us.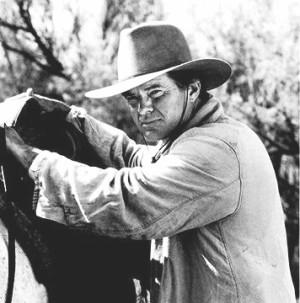 Robert Urich's Lazarus, rebuilding his life "on the shards of the past." That narration by Robert Urich at the end of one episode really reached me.

VERONICA MARS
FAVORITE SHOW 2004-2006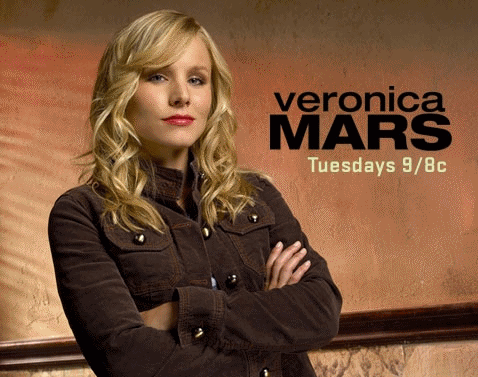 Kristen Bell as the witty, savvy and confident Veronica Mars, amateur sleuth. We ain't talking "Nancy Drew" here!
There is something about a woman who can really handle herself in a sticky situation. After losing The Lazarus Man, I didn't have a real favorite show until I stumbled onto Veronica Mars in the middle of her second season, trying to solve the mystery behind the crash of a bus carrying some of her high school senior class friends. I had to catch up on the show's first season on DVD. The main thing I liked about Veronica Mars was watching Veronica outsmart the high school in-crowd that had exiled her to the outcasts after her father lost his position as Sheriff following the bad end to the investigation of the murder of Veronica's best girlfriend. The Mars family, only father and daughter as mother walked out, hustle to make a living while Veronica tries to piece together the old case of her girlfriend's death. Along the way, she befriends other outcasts at school. It was an imaginative show with a vital and vibrant female lead. It took a bad turn in the third season as Veronica went off to college and got separated from her friends.

HOUSE, MD
FAVORITE SHOW 2007- PRESENT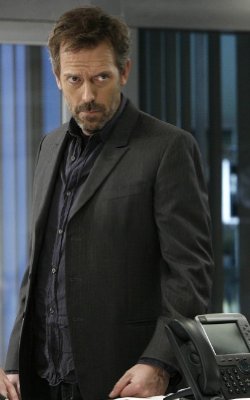 Hugh Laurie, the actually very British actor who portrays a very American Doctor Gregory House
I accidentally started watching Hugh Laurie's House very recently, and not in its usual prime time slot on Fox. I caught up with House on USA Network's marathons. The medical mysteries, the writing, and the acting are probably the best on television today. One of the main attractions is what will be the outrageous things Dr. House will say this week. There are Web sites with sound clips full of House's somewhat twisted and sardonic eruptions. I can't get enough of the good doctor's wit. Thanks to USA, I've seen most of the episodes. Some of my favorite Houseisms are heard on the current FYI page on Mary Stu's Tavern in the "Ask the Webmaster" interview bits.