BIG BAND SWING
A MUSIC I EMBRACED IN THE MIDDLE OF THE DISCO ERA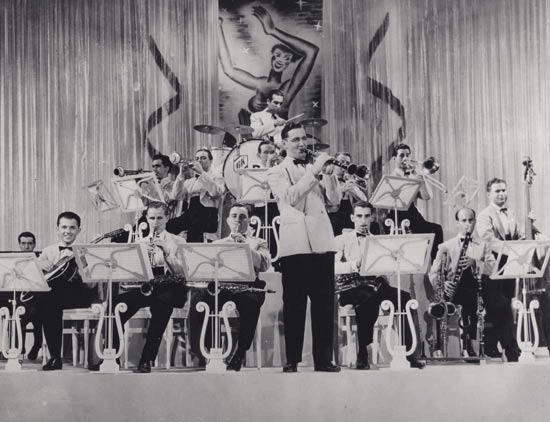 Benny Goodman and his band.

A New Big Band Era--1978
It was 1978 and disco was at its peak while the mid-70s recession was starting to improve slightly before the next big fall in 1980-1981. I was in Greensburg, Pennsylvania scratching out a living working for consumer loan companies, not the most enjoyable way to make a living. It was a Saturday in August. I was accidentally getting cable TV by putting the "rabbit ear" of my small Philco portable television against the wall of my basement studio apartment at Willowbrook Apartments about three miles from downtown Greensburg. An old show called Hollywood and the Stars was on while I was studying baseball box scores in the Pittsburgh Post-Gazette. I heard a familiar voice break into the special episode about "child stars" in old Hollywood. A girl was singing something called The Balboa. It sounded so good, I lowered the paper to make sure of who the singer was. It was Judy Garland, about 13 years old, breaking into full swing, and no female vocalist was more born to the Big Band sound than Garland. From that afternoon, I was hooked. Every week I set aside to few bucks to buy old 33.3 vinyls and 8-Track tapes of Benny Goodman, Glenn Miller, Artie Shaw, Tommy Dorsey, and Duke Ellington. The singers I purchased were Judy Garland, young Frank Sinatra with Tommy Dorsey's Orchestra, the Andrews Sisters, and others. The TV went off when I remembered WNUF-FM in Pittsburgh, a full-time Big Band station, which also played episodes of old radio dramas and comedies my parents used to tell us about. I had been liberated early from disco, although I still listened to the new stuff at work and on the AM radio in my 1974 Pontiac Ventura.

The Bands and Their Leaders--Personal Favorites
Benny Goodman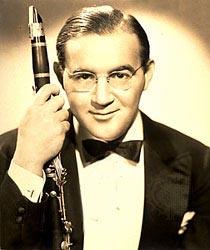 Benny Goodman circa 1938, the year of his greatest live concert tour.
Benny Goodman was one of the first band leaders' recordings I purchased. My absolute favorite collection of his was the 1938 Double Album, which a girlfriend gave me for Christmas. That was how I "discovered" my favorite female vocalist with Goodman's band, Martha Tilton. Helen Ward was a close second. I'll cover the vocalists next and concentrate here on the instrumental tracks Benny Goodman made so memorable. Among my favorites are the titles that follow, but this is not an exhaustive list. You'll see more of my favorite Benny Goodman songs when I list some of the best with Martha Tilton singing.
Don't Be That Way
Let's Dance
Sing Me a Swing Song and Let Me Dance (Helen Ward vocal)
Sing, Sing, Sing
Swingtime in the Rockies
Stompin' at the Savoy
I'm a Ding-Dong Daddy from Dumas
Russian Lullabye
Topsy
Bumble Bee Stomp
Bugle Call Rag
Exactly Like You

Artie Shaw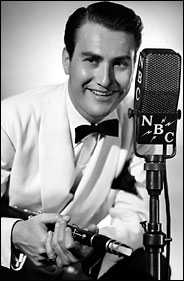 Artie Shaw: He could make a clarinet sing.
Artie Shaw keeps gaining ground on me as the years go by. There were so many good recordings that I can play over and over and never get tired of them. One of them, "My Heart Will Go On," was so good that, once when I was trailing a horse-drawn wagon full of Amish girls near Mesopotamia, Ohio, I was playing that piece over my CD player with the windows down on my 2003 Oldsmobile Alero. The girls heard it as I drew up behind the wagon, and were soon tapping the heels of their high-button shoes, bobbing their heads, and patting their hands on their laps to the rhythm. An older girl made them stop, and I turned the music down rather than get them into bigger trouble. Artie Shaw can sometimes get people into trouble with his music, but usually it is good trouble. Benny Goodman was a great clarinet player, one of the greatest, but Artie Shaw could make that instrument sing.
I Cover the Waterfront
My Heart Will Go On
Saint Louis Blues
Moonglow
Begin the Beguine
Rosalie

Glenn Miller
Glenn Miller Turned Big Band Swing into a non-stop party.
Glenn Miller's music is irrepressibly happy music. Even some of his slow dance tunes just lowered the decibels from "happy" to "mellow." Glenn Miller didn't record too many sad songs. Among all the band leaders of her day, Glenn Miller was my mother's favorite.
At Last
String of Pearls
I Got a Gal in Kalamazoo
Elmer's Tune
Johnson Rag
American Patrol
St. Louis Blues March
Chattanooga Choo-Choo
I Know Why (And So Do You)
Moonlight Serenade
King Porter Stomp

Duke Ellington, Musical Master

Duke Ellington, master of improvisation and a musical genius.
Duke Ellington is one of the Twentieth Century's most versatile musical minds. Anything that sounded good within the body of a piece of music, he would blend it in with modern Big Band sounds and make it sound like it belonged. An example of this was C Jam Blues. The fiddle that breaks in right in the middle sounds like a Country/Western fiddle like one Reba McIntyre might play, yet it was plunked down in the middle of a piece of African-American swing jazz. It worked. The listener can't imagine any other instrument, played in any other style, in C Jam Blues except that country fiddle. Duke Ellington spent a few of his older years writing and playing sacred music. The Duke is another artist of that era that just gets better to me every time I play anything he recorded. Duke Ellington was an institution at popular black night clubs and concert theaters such as Harlem's The Apollo and The Cotton Club.
Perdido
Take the A Train
Harlem Air Shaft
Just A-Sittin' and A-Rockin'
C Jam Blues
Cotton Club Stomp
East Saint Louis Toodle-Oo

Tommy Dorsey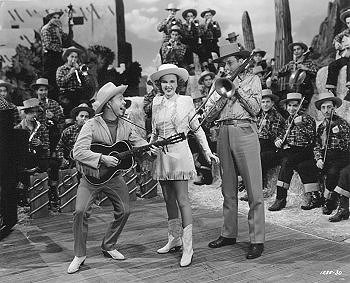 Tommy Dorsey and his orchestra back-up Judy Garland and Mickey Rooney for "I Got Rhythm" in Girl Crazy (1943)
Tommy Dorsey survived musically into the 1950s, taking his band onto a national network television show that helped introduce Rock and Roll artists like Elvis Presley and Buddy Holly. Dorsey, from Lancaster, Pennsylvania, landed a contract with Metro-Goldwyn-Mayer in the 1940s, leading his band in some of MGMs many musicals of that period. Dorsey signed young skinny crooner Frank Sinatra on as his main singer in the early 1940s.
Opus One
Little White Lies
Birmingham Bounce
The Music Goes 'Round and Around
Marie

THE VOCALISTS
Judy Garland: Strike Up the Band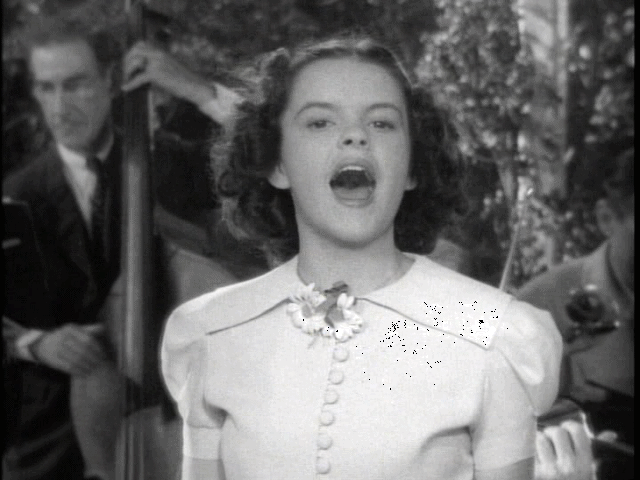 Garland belting out "Americana" in the Two-Reel Short Every Sunday (1936)
Most of my favorite singers are women, and Judy Garland is my favorite of those favorites. When I heard her voice coming out of the television that Saturday afternoon in 1978, I was started on the road to making Big Band Swing my favorite Twentieth Century form of "popular music." No one was so completely born to sing swing than Judy Garland. She loved swing, and swing loved her. She could have been a band singer, and might have been better off personally in that career than in the movies, but maybe she would not have been on that rerun of Hollywood and the Stars selling The Balboa over thirty years later. I would have missed the train. My favorite musical films of hers were all the ORIGINAL (and BEST) high school musicals she did with Mickey Rooney. Babes in Arms, Babes on Broadway, Strike Up the Band, and Girl Crazy. The very best of the production numbers from those movies are listed below. Once I was asked during one of my job travels far from home what I thought made an entertaining movie. My answer: "Put Judy Garland and Mickey Rooney in a high school gym the size of the aircraft carrier USS Ronald Reagan and have them do a big number like The La Conga."
The La Conga--Strike Up the Band (1940)
Hoe Down--Babes on Broadway (1941)
How About You?--Babes on Broadway (1941)
I Got Rhythm--Girl Crazy (1943)
Embraceable You--Girl Crazy (1943)

Martha Tilton, Benny Goodman's First Lady of Swing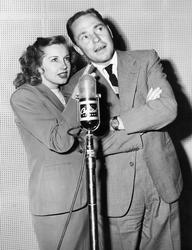 Martha Tilton with Song Writer Johnny Mercer
Martha Tilton is another of my favorite Big Band female vocalists of the 1930s and 1940s. During World War II, she made several trips to entertain the troops along with Bob Hope's USO troupe. In 1938, she was the singer in Benny Goodman's band, appearing in the big tour that resulted in the double CD-set of today, Benny Goodman, 1938. The title could easily have been Benny Goodman and Martha Tilton, 1938. Martha Tilton's singing made that double album something really special. There were many favorite tracks for me.
What Have You Got that Gets Me?
Could You Pass in Love?
Feelin' High and Happy
A Little Kiss at Twilight
Blue Interlude
When I Go A-Dreamin'
It's the Dreamer in Me
Don't Wake Up My Heart
I Let a Song Go Out of My Heart
You're a Sweet Little Headache
Is That the Way to Treat a Sweetheart?

There are so many more I could list, but this page would go on forever. The great Billie Holliday, Count Basie, Jimmy Dorsey, Helen Ward, Helen O'Connell, the Andrews Sisters, Louis Armstrong, and the Mills Brothers. Since 1978, I have had the pleasure of enjoying all of them. I hope you will take a chance and try something different. Put a little Big Band swing in your life. You'll like it.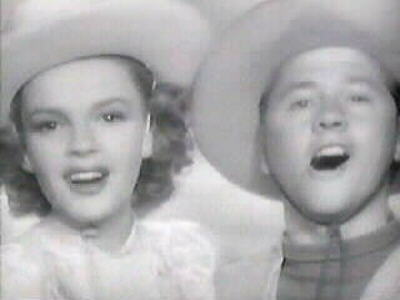 "Who could ask for anything MORE?"