BACKBLOG ARCHIVES PAGE 14

RUSSIANS RELEASE WHAT THEY CLAIM TO BE BOOTLEG SMARTPHONE FOOTAGE OF FAKE "ISIS" BEHEADING BEING FILMED IN A STUDIO!
Entry Date: July 14, 2015
I was checking out the YouTube page that had the video of "ISIS" hostages, in their orange jumpsuits, ready to behead ski masked "ninja"- style ISIS fighters. Hoping he might have found some more evidence of fakery, including use of blue, or green screen chromakey technology in the filming of the fake beheadings, instead he posted to his own YouTube channel a Russian video found on what the Russians call RUTube. I suspect this is Russian Intelligence stuff, but the video is put out by some alleged private group who claim to have been leaked the footage from the smartphone of a member of Senator John McCain's staff, but I cannot verify that. I agree with the YouTube member's impression that the mannerisms and gestures of the "Johnny Jihadi" figure look the same as in the fake beheading videos when "Johnny" attacks President Obama, waving the stubby knife at the camera. This could be footage from actual studio work on the fake beheadings. The "ISIS" beheading videos were exposed as fakes in several mainstream media reports during June, including CNN, Fox News, the London Times, and other mainstream outlets. However, while the media insist the victims were killed "off camera," I am not certain they are dead if a high-tech studio was behind the filmings. The killings were faked as well in that case.

CHRISTMAS IN JUNE: THE LOCAL BAND "MOSTLY BRASS" PLAYS CHRISTMAS CLASSICS IN 2014
Entry Date: June 20, 2015
Last Christmas, I decided to take advantage of being a retiree and attend as many Christmas programs as Oil City describes in its annual "Christmas Past" brochure. A few of the events were held at the same venue, the Venango Museum, so I got to see the Christmas Tree competition, taste some treats at a Chocolate Festival, and hear a concert by the local "Mostly Brass" band. I was sorry I didn't bring my digital camera, which also does movies, to record the concert, but someone else did and put it up on YouTube. Get a load of the Christmas lights on the saxophone.

THE FIRST ANNUAL THREE STOOGES AWARD FOR THE BEST INCOMPETENT "ISIS" FAKE BEHEADING VIDEO
Entry Date: May 22, 2015
I went searching You Tube to see if anyone else out there noticed the anomaly of all the "ISIS" hostages dressed up in orange jumpsuits. I found the one embedded below which also showed orange jumpsuit wearing hostages turning the tables and preparing to behead the ski masked "ISIS" fighters. Somehow, I think the makers of the previous beheading videos are showing that they are good sports with the ability to laugh at themselves, which I believed inspired them to really go over the top with another beheading video that totally and deliberately rejected any attempt to even approach credibility. The little detail I enjoyed the most was the addition of the anachronistic "ball and chain" shackles that reminded me of a Three Stooges short in which the boys were inmates dealing with ball and chain shackles. Moe, Larry, and Curly would drop their iron balls one at a time, producing the chimes the NBC network still uses as it's signature. There's nothing like another horribly made "Terrorist Beheading Video" to produce enough knee-slapping laughs to make all your cares disappear.

POPULAR MUSIC SELECTIONS FROM 1977
Entry Date: May 6, 2015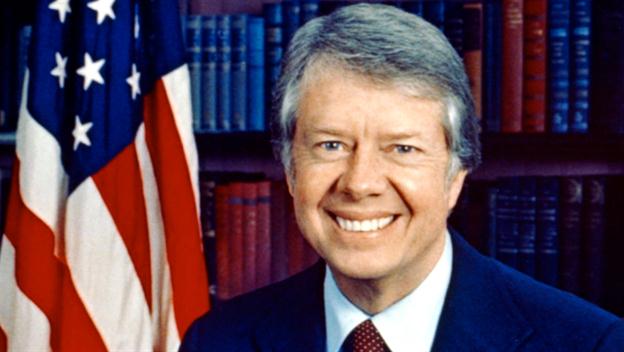 James Earl Carter, President of the United States 1977-1981
We all need a break from the avalanche of "news" reports about terrible would-be professional actors making amateurish videos while dressed up like "terrorists," especially since now we have "free-speech" advocates chumming for terrorists by publicly holding contests to see who is best at ridiculing Islamic beliefs. So, it is about time to run another post highlighting some of the best popular songs from a particular year. In this case, it is 1977. My cousin, Nancy Collette, a music instructor at La Roche College in the North Hills of Pittsburgh, requested a post like this for songs from early 1977 and 1978. The early 1977 songs will come first, with a separate section for songs from later in that year, as I thought 1977 can't be adequately covered without including songs from the entire year. This is also why 1978 will have its own post. Both years were great for popular music. In 1977, the effects of the recession, that actually began in 1971 and ran right through early 1984, were still in effect. Jimmy Carter took office as President after defeating Gerald Ford in the 1976 election. The music form known as "Disco" took off with the release of the movie Saturday Night Fever, which helped make John Travolta a star. Locally, 1977 was the first season with Chuck Tanner as manager of the Pittsburgh Pirates, and the Steelers missed the Super Bowl after winning in 1976.
Scenes from Greensburg, Pennsylvania
EARLY 1977
DANCING QUEEN--ABBA
GONNA FLY NOW (ROCKY THEME)--BILL CONTI
MAGARITAVILLE--JIMMY BUFFET
SOUTHERN NIGHTS--GLEN CAMPBELL
RICH GIRL--HALL AND OATES
DON'T GIVE UP ON US--DAVID SOUL
BLINDED BY THE LIGHT--MANFRED MANN
LIDO SHUFFLE--BOZ SKAGGS
DREAMS--FLEETWOOD MAC
SUMMER 1977
I JUST WANT TO BE YOUR EVERYTHING--ANDY GIBB
ARIEL--DEAN FRIEDMAN
BEST OF MY LOVE--EMOTIONS
NOBODY DOES IT BETTER--CARLY SIMON
KNOWING ME, KNOWING YOU--ABBA
FALL AND EARLY WINTER 1977
HOW DEEP IS YOUR LOVE--BEE GEES
EMOTION--SAMANTHA SANG (WITH THE BEE GEES)
ALL YOU GET FROM LOVE IS A LOVE SONG--CARPENTERS
HERE YOU COME AGAIN--DOLLY PARTON

TERRORIST FILM REVIEW: CHANGE OF WARDROBE FAILS TO MAKE "ISIS" VIDEOS REALISTIC
TERRORISTS STILL DON'T SCARE ANYONE IN LASTEST OFFERINGS
Entry Date: April 22, 2015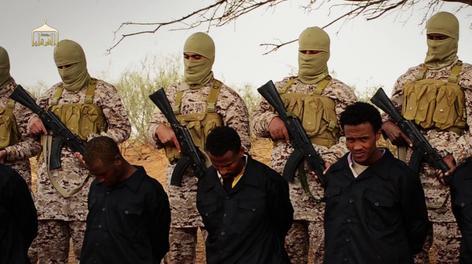 First of all, the name "ISIS" stands for the country that Al Qaeda wants to carve out of parts of Syria and Iraq "Islamic State in Iraq and Syria." It is not the terrorist group itself, which is still Al Qaeda. Someone is trying to rebrand Al Qaeda or confuse us into believing this is another organization rather than Al Qaeda. It isn't. The "ISIS" flag is the same one Al Qaeda flew when they took Libya, with our help, prompting European papers such as The London Sunday Telegraph to remark that the United States was now allied with Al Qaeda to overthrow Muammar Gadaffi of Libya. So, whenever you hear "ISIS," that means "Al Qaeda."
Someone must have read my scathing review of the past poorly staged and filmed terrorist videos, particularly those starring the English-speaking, British citizen known as "Johnny Jihadi." I complained about the ridiculous dressing up of terrorist hostages in the same orange jumpsuits used by the US Bureau of Prisons and the stupid looking ninja costumes on the terrorists. Make no mistake about it, these videos are complete fakes with, or without "Johnny Jackass" doing all the talking, and ham acting, as the Number One "Ski Mask of Terror" wielding a six-inch blade that couldn't cut the head off a chicken. The photo above shows how the "Wardrobe Department" of some spy agency (which will go nameless, of course, as this country has reached its limit for embarassment by now) came up with these pristine uniforms with tasteful, color-coordinated ski masks. Every time I see one of these "terrrorist" productions, I keep thinking about Robin Williams' bit in Good Morning Vietnam where his Adrian Cronauer pretends to interview a gay fashion expert commenting about the uniforms used by the conflicting armies in Vietnam ("Oh, Adrian, I say if you are going out to war in the jungle, don't try to hide. Make a statement--CLASH!"). No, the videos are not scary. They stink so bad they are hilarious. Everytime they go to slaughter people, the "ISIS" terrorists always march the victims out into the same kind of hackneyed sunset-on-the-beach scene John Wayne tried to use at the end of The Green Berets. Hey, I know you are spies and not filmmakers, but executions are not the stuff of romantic comedies like Jerry Lewis strolling along the San Diego beach with Susan Bay in The Big Mouth.
There are many videos of Mexican drug cartels actually executing people. Study them if you really want these things to get any better, but get ready to increase the old production budget for special effects. For example, none of the hostages look scared or alarmed even though they are about to be killed. No one cries, begs for mercy, reconsiders converting to the "ISIS" version of Islam, or tries to make a run for it. The one hostage on the lower right seems to have trouble keeping a straight face. I don't blame him. The hostages have nothing to lose by trying one, or all, of the above, but just passively await their fate, something like poor Daniel Berg who was allegedly filmed being beheaded by Iraqi insurgents, but that is a story for another time.
I have taken note of the hostages now wearing "basic black," or as Robin Williams' fashion consultant put it, they could always add pearls and be ready for a fun night on the town after a hard day of playing hostages being executed. No, the new wardrobe is not making these things work.

HORN OF AFRICA
Entry: April 6, 2015

Where Africa juts into the Arabian Sea is the Horn of Africa.
With all the trouble in Yemen and Kenya, that includes the mass killings of Christians and Shiite Muslims by Al Qaeda affiliated militias such as Al-Shabab from Somalia, it helps to check a map to see how close all of the countries are geographically. Yemen is close to Somalia, right across the Gulf of Aden, which is not very wide. Somalia shares a long border woth Kenya. This is a strategic area that controls the southern approaches to the Suez Canal. Muslims make up only 12% of the population of Kenya, but there has been trouble in the past two years, with a mall being attacked by terrorists in 2013, and now a University in northern Kenya. A minority that small should be alert to putting to a stop attacks on the majorities that could create future problems for the present government of Kenya.

SOME MUSIC FROM THE FALL OF 1999
Entry Date: March 10, 2015
In early October 1999, I had to attend a conference in Hershey, Pennsylvania, at the large conference center there owned by the famous chocolate company that dominates the center of Hershey. A few days prior to the start of the conference, I took a few days off and traveled to Pottstown in Montgomery County to visit some old haunts in Royersford and Phoenixville, staying in what is now the Quality Inn. My first evening in, I went to see the movie Three Kings at the multiplex across from the Coventry Mall off 422 near Pottstown. The theater chain played Top 40 Popular music recordings while running movie trivia quizzes, invitations to the snack bar, and warnings to turn off cell phones. Here are some of the selections I most remember, along with some tracks from the soundtrack of Three Kings.
KISS ME--SIXPENCE NONE THE RICHER
DRIVE ME CRAZY--BRITNEY SPEARS
I WANT IT THAT WAY--BACKSTREET BOYS
SHE'S SO HIGH--TAL BACHMAN
SOMEDAY--SUGAR RAY
SMOOTH--SANTANA WITH ROB THOMAS
FROM THE THREE KINGS SOUNDTRACK
I GET AROUND--BEACH BOYS
STOP OU ENCORE--PLASTIC BERTRAND
IN GOD'S COUNTRY--U2

JIHAD JOHNNY: ANOTHER FAKE
Entry Date: February 27, 2015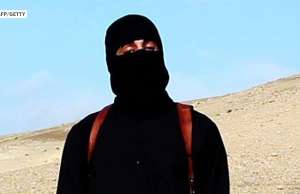 The MSN Web site referred to "Jihad Johnny" as the "face of Islamic State terror." "The FACE?" How about, "The SKI MASK of Islamic State Terror," or "the lousy actor employed by MI-6 or some other spook agency?" I don't know which is the worst about these "terrorist videos," Jihad Johnny's" lousy, ham acting or the amateurish special effects. Someone should do something about the Wardrobe Department dressing these guys up like they are extras in some cheesy ninja movie from the 1970s.

REMEMBERING SOME OF THE MUSIC OF EARLY 1996
Entry Date: February 24, 2015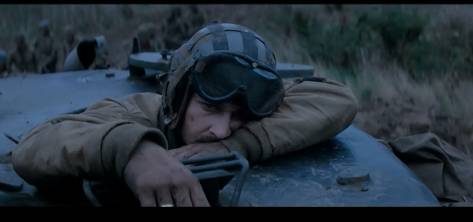 The Lord is my light and my salvation; whom do I fear?
Though an army encamp against me, my heart does not fear.
--Psalm 27
The year 1996 was a very challenging one for me, to say the least, but I made it through the roughest parts by, in part, listening to some of the better popular songs being played on FM radio during one of the worst winters of the 1990s. Most of these links to You Tube are to licensed copies of the artists' official videos on the VEVO channel. Click your BACK button to return to try the next song.
INSENSITIVE--JANN ARDEN
ONE SWEET DAY--MARIAH CAREY AND BOYZ TO MEN
ONLY WANNA BE WITH YOU--HOOTIE AND THE BLOWFISH
AS I LAY ME DOWN--SOPHIE B. HAWKINS
YOU ARE NOT ALONE--MICHAEL JACKSON
BACK FOR GOOD--TAKE THAT
Blessed be the Lord my rock,
Who trains my hands for battle, my fingers for war;
My safeguard, my fortress, my stonghold, my deliverer;
He in whom I trust--Psalm 144

NO, I STILL DON'T BUY THE ORANGE JUMP SUITS
Entry Date: February 23, 2015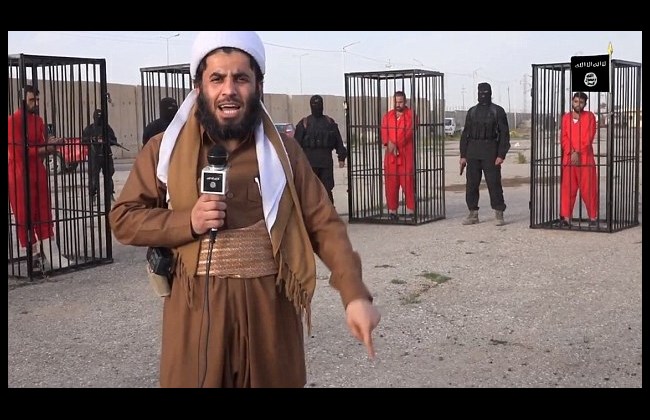 "I will beat any other dealer's price...GUARANTEED!"
Sorry, guys, but adding the cages as props is not making it any more believable that Al Qaeda (aka "ISIS") has an inexhaustible supply of what looks like Bureau of Prisons orange jumpsuits. I think you guys should tone these videos down and make them more realistic, but why do I bother trying to convince those who (most likely) gave us the 2004 Fat Osama video as an October Surprise?
CNN DISCLAIMER SHOWN UNDER THE CAGES VIDEO: "CNN COULD NOT INDEPENDENTLY VERIFY THIS VIDEO." That is what is called an understatement.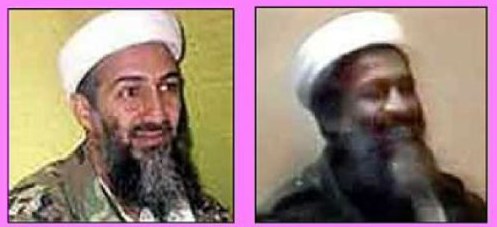 The blurry, infamous Fat Osama bin Laden is on the right. The Fat Osama ("Too much linguini."--Clint Eastwood) appeared in a last minute video to threaten us just before the 2004 election, and was an obvious fake to anyone who really looked at it.

BOOGEYMAN ALERT!--Al QAEDA DOING BUSINESS AS (DBA) "AL-SHAABAB" THREATENS TO ATTACK MALL OF AMERICA
JUST IN THE NICK OF TIME FOR THE "DEBATE" ABOUT THE HOMELAND SECURITY FUNDING BILL!
Entry Date: February 23, 2015
"Boogeyman Alert" will be a new semi-regular feature through which we will present analysis of the most recent "threats" by the various "terrorist" groups who are out to kill us all, according to our leaders.
Yes, we are being threatened with new terrorist attacks on our own soil, but let's not forget that even the New York Times admits that the terrorist attacks "thwarted" by federal law enforcement all of these years were actually sting operations concocted by the FBI and other federal agencies. There wouldn't have been any attempted "terrorist" attacks if not for the "sting" or entrapment elements whereby a federal informant induces targets to plan a terrorist attack and then the agencies move in and "thwart" them. Well, a collection of these kinds of agencies, the Department of Homeland Security, has a major portion of its funding tied up in an appropriations bill that includes the amendments agreeing to the steps the President wants enacted to instantly legitimize some 4 million or more illegal aliens presently in the country. The Republicans do not want to pass the amendments, but if they don't, Homeland Security might be shut down, just when (drum roll) an Al Qaeda affiliate from Somalia so conveniently threatens the Mall of America.
I have a solution to the whole mess. Just don't bother funding the BORDER PATROL and other border security elements of Homeland Security, since they are not doing anything anyway. One border patrol agent declared to a reporter, "We just finish the smuggling process by giving them travel vouchers and putting them on a bus." Just go ahead and open the borders wide for anyone who wants to come here (and vote for one party or the other--heh, heh.) since that is what certain people want. So, why still waste billions on border control? It's politically incorrect for us to control our borders. This way, the Open Borders crowd is happy, now that anyone can come into America at any time including drug cartel gunmen; spies; terrorists; serial killers; fugitive foreign murderers, rapists, etc. in addition to all the hard working people we keep hearing about as if they are the only ones who come here. Not to forget the minor children who, we are told, hike up here from Honduras. No, I'm not naive enough to believe that, but I don't want to upset everyone else who buys such ridiculous nonsense. The real story is that the "unaccompanied minors" came up by more dangerous means, and many did not make it. Anyone who encouraged that activity bears responsibility for those who lost their lives in the attempt while not assiting them from the beginning of the trip to the end.
Listen, and try to apply some simple commonsense. If you do not control who enters your country, you do not care about security from foreign terrorists who launch their attacks here. It is just that simple. People in authority who want to let anyone into the country who can get here automatically concede to terrorists wanting to operate here the ability to come in without fear of being caught. If anyone finds anything wrong with that cause-and-effect reasoning then there is not much left to say to convince them that totally open borders might not be a good idea. We will have to keep the borders wide open until we find out the hard way that immigration is still possible right along with secure borders. It is a shame that every lesson here has to be learned the hard way, but with a nation of cement heads there is no other way.

JUMPSUITS--"ORANGE IS THE NEW BLACK"
Entry Date: February 17, 2015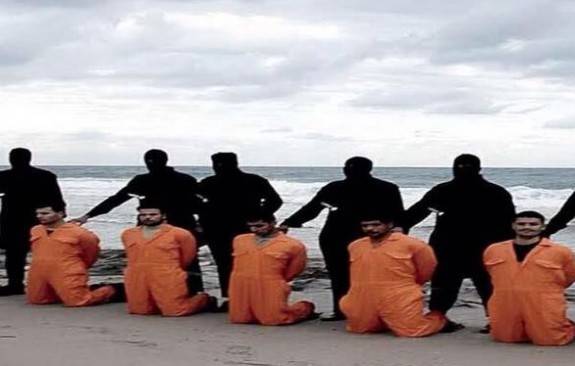 Alleged ISIS terrorists displaying Coptic Christian hostages they allegedly beheaded.
No matter where these terrorist cats are holding hostages, they always manage to dress them in the same orange jumpsuits we put on our own prison inmates in the United States. Not just in Libya, where Al Qaeda and ISIS types are in control of most of the country, but in remote desert areas of Syria and Iraq where they are not in control of any governmental institutions. ISIS and Al Qaeda are organizations, not countries, states, or governments, so where did they get these orange jumpsuits, the same ones our government uses for prison inmates? Most terrorist hostages are held prisoners in their street clothes, as the terrorists are just a gang-bang group, not a government. You wear your own clothes as a hostages, not formal, government-issue prison garb, like Taylor Schilling in Orange is the New Black. I mean, does anyone really think that a terrorist group has truck-loads of orange jumpsuits in different sizes with which to dress up their hostages so they look like inmates from Sing-Sing?
So, where does ISIS get the orange jumpsuits, or from what government did they get the orange jumpsuits?
I'll just cut to the chase. Boys, if you are going to stage stuff like this, just remember: REAL TERRORISTS DO NOT PUT ORANGE JUMPSUITS ON HOSTAGES.
Write it out about 100 times if you can't remember. Try to make this stuff more realistic, okay? Stop using American and British "Radical Islamic Terrorists" to do all the talking on the videos. Use an Arab for a change, and have him speak Arabic on camera. It's more convenient anyway, because Americans won't know what the "terrorist" is saying. You can have him recite the Gettysburg Address and still claim the "terrorist" made some violent declaration. How the hell would we know? Americans will still believe anything Brian Williams tells them, even after Williams comes back from his six months of suspension for being caught lying. Let me repeat those last four words just for effect: "for being CAUGHT lying." Use your heads for a change. Don't make this so obvious. Take at least a little pride in your "tradecraft," as some of you like to describe it, and put on a real show, something like the computer graphics on the movie Gladiator that reproduced the Coloseum. I know you guys have it in you, so "break a leg," as they say in "Show Biz," for your next "terrorist" video!
Oh, by the way, Osama bin Laden is still dead, so no more footage of the fat guy impostor who threatened us just in time for the 2004 election. Brian Williams told us he was Osama so we are not responsible! At least I think the fat Osama threatened us. For all I know Fat Osama recited lines from Green Eggs and Ham in Arabic.

SOME OF THE BEST MUSIC OF 1986
Entry Date: February 5, 2015
1986
"God heals the brokenhearted and binds up their wounds."--Psalm 147 (3)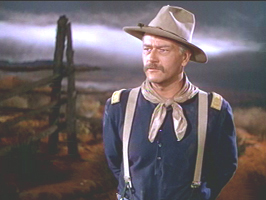 This year was a particularly important, and very memorable one to me, and these popular songs were playing alot on the Philadelphia area FM stations while I was getting used to life in Phoenixville and finding my way around to various auditing assignments all over southeastern Pennsylvania.
SARA--Starship
HUMAN--Human League
THESE DREAMS--Heart
KYRIE--Mr. Mister
FOOLISH HEART--Steve Perry
LIFE IN A NORTHERN TOWN--Dream Academy
WORDS GET IN THE WAY--Gloria Estefan and Miami Sound Machine
STUCK WITH YOU--Huey Lewis and the News
SLEDGEHAMMER--Peter Gabriel
TAKE MY BREATH AWAY--Berlin
INVISIBLE TOUCH--Genesis
ALL I NEED IS A MIRACLE--Mike and the Mechanics
HOLDING BACK THE YEARS--Simply Red
ADDICTED TO LOVE--Robert Palmer
FALLING IN LOVE (UH-OH)--Gloria Estefan and the Miami Sound Machine
THE WAY IT IS--Bruce Hornsby
SHAKE YOUR LOVE--Debbie Gibson
WALK LIKE AN EGYPTIAN--The Bangles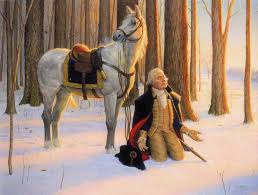 "The Lord supports the afflicted. He brings down the wicked to the ground."--Psalm 147 (6)

RAPTURE: BLONDIE'S UNEXPECTED RAP
Entry Date: February 5, 2015

THE MARCH OF THE POLITICIANS IN PARIS
THERE'S NO BUSINESS LIKE SNOW (THE PEOPLE) BUSINESS!
Entry Date: January 20, 2015
President Obama took some heat for not attending the big "march" of foreign politicians down the broad boulevards of Paris, arm-in-arm, ready to go off to battle--er--send other people off to battle with yet another terrorist operation. I'm sure that all of those politicians really care about Freedom of Speech and the Press, especially by those who oppose their regimes. Most of those in that parade never heard of the obscure Charlie Hebdo Paris magazine that caters to those who like satirical cartoons and articles poking fun at politicians, religions, etc. Charlie Hebdo wasn't all that widely circulated, and marching like that will not do much to deter further attacks from that terrorist group that seems to be populated mostly by British and American Muslim citizens, ISIS. As soon as the march was over, ISIS was hauling out two Japanese hostages before the television cameras (Where do international terrorists come up with orange prison jump suits like the ones we use?) to demand 200 million dollars for their lives. The march of a bunch of politicians apparently didn't scare the terrorists.
What I find interesting is, after all that violence in Paris, and the dire warnings from the electronic media that the West is teeming with these ISIS guys ready to jump out and kill us, that these politicians were not scared to march down the streets of such a terrorist filled city. I can't figure out why their security agencies did not advise strongly against it. After all, you get a few dozen heads of state in one place, all bunched up like that, and that is a terrorist dream come true. A one-eyed Jihadi, hanging from a ten-cent balloon, could have blown the leadership of Western Europe sky high with one satchel charge. Somehow, the security agencies got the idea that their politicians would be safe marching around like those mechanical bears in a Coney Island shooting gallery. Maybe the problem is that we have the wrong idea about who orders these terrorist groups around?
There couldn't have been much of a threat or there wouldn't have been a parade of these guys all bunched together in one place. Not attending didn't mean Obama was "chicken," since nothing was going to happen and all the politicians knew that in advance, or they wouldn't have stuck their necks out like that in the first place.

FREE STEPHEN GLASS!--IT'S A SMALL WORLD AFTER ALL
Entry Date: January 20, 2015
This past Christmas season was disturbed by a story in Rolling Stone by reported Sabrina Erdeley that a female student at the University of Virginia was gang raped by a bunch of Phi Kappa Psi fraternity boys as part of their initiation. University officials reacted immediately, suspending all Greek activities on campus, which must have included the sororities along with the fraternities. There were some problems with what the media types would call "Sabrina Erdeley's Narrative." She did not quote one particular witness accurately, and did not interview one witness she claimed to interview about the case. Unfortunately, the witness Erdeley misquoted was made to look as if she advised the victim to forget about the gang rape because it could help make her popular on campus. This portrayal offended the young woman, and rightly so. This indiscretion would be one of the biggest factors in the story coming unraveled. Rolling Stone printed a retraction.
It would have been easy for any of the media outlets that echoed Erdeley's tale to check out the facts supporting it. For one thing, it is impossible to rape anyone at a party that was never held on the date in question. That fact alone, easily proven, along with the denials of the friends of the victims about the alleged interviews by Erdeley, would clearly indicate that the story was a fraud.
Sabrina Erdeley attended the University of Pennsylvania where she was a writer on the staff of the campus newspaper. Her then supervisor caught her fabricating a story and reprimanded her for it. The supervisor was Stephen Glass, then a student. Unlike her mentor, Sabrina Erdelely was not fired for the fake rape story. She still works for Rolling Stone, unlike her former mentor, Stephen Glass, who was fired for writing fiction for The New Republic. Once again, we see the media denying our hero equal justice as now Glass is unemployable while Erdeley is still working. Not only that, but Glass' indiscretions did not result in someone being imprisoned unjustly, but Sabrina Erdeley had a story printed in Rolling Stone a few years before the fake gang rape story about a boy being molested by Catholic priests, and people were convicted because of that story. They were in jail until the story fell apart when the witness started contradicting himself. One accused has had his conviction overturned. Glass didn't get innocent people convicted, but now he can't buy a job. Maybe if Glass had gotten someone killed, drove them to suicide, or helped start the Vietnam War by parroting the government hoax about a North Vietnamese attack on our ships in the Gulf of Tonkin he would have won a Pulitzer Prize!
It makes one wonder just how many "big stories" are nothing but made up hoaxes.
FREE STEPHEN GLASS!

"PETER WHO?"
THE MEDIA'S CONTINUING AVOIDANCE OF PETER LANZA
Entry Date: Januray 20, 2015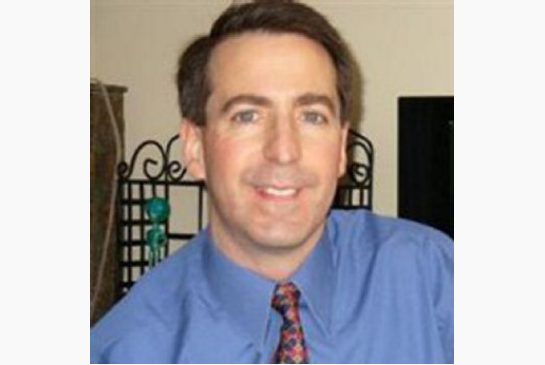 The typical blurry media photo of Peter Lanza, alleged father of alleged Sandy Hook shooter Adam Lanza. The blurry quality is similar to tabloid photos of space aliens and the Loch Ness Monster.
The mass media in America are famous for hounding people directly involved in any sensational event. The alleged mass shooting of elementary school children at Sandy Hook Elementary School in Connecticut was certainly a shocking event. It was covered 24/7 by the "mainstream" media, but without their traditional aggressiveness. One would think, given how the media responded to the need to "get the story" during similar tragedies, there would be a host of them descending on Lanza's residence. Well, maybe after they retracted their earlier reports that the Lanzas' "other" son, Ryan Lanza, had murdered Peter Lanza, that is, along with someone else whose corpse was erroneously reported to be in Ryan Lanza's Hoboken, New Jersey apartment. Where were the media crew vans, the satellite TV trucks, the horde of microphone wielding reporters that would have typically invaded Lanza's property, hounding Lanza until he "made a statement" to the media? You would think the longer Lanza ducked them, the longer the media would camp out until food wagons showed up along with other entrepreneurial operations to service the reporters that would have turned Lanza's block into something like the Gold Rush town of Deadwood, South Dakota. Why wasn't Barbara Walters trying to get a heart-to-heart inteview with Lanza in order to get a "first?" Why wasn't Nancy Grace doing the same thing in order to find out why Lanza has three aliases, Peter Buhrmaster, Peter Stack, and Peter Delcore? Let's see, who do we know who uses multiple names? Well, to name a few, but certainly not all: spies, organized crime characters, grifters, people in witness protection, identity thieves, etc. You see, this comes under the heading of a famous piece of evidence Sherlock Holmes once came up with in the form of a question, "Why didn't the dog bark?" Not only didn't the dog (the media) bark, but it stayed away from Lanza, and the only reason why that I can think of is that someone ordered them to stay away. Lanza's say-so wouldn't stop any of them from hounding him night and day, but their bosses could sure stop them. Their bosses could fire them if they didn't stay away from Lanza. Now, the people powerful enough to tell the reporters' bosses to order their reporters to stay away from Peter Lanza is the bunch I would like to meet. I think they make a lot of the decisions around this place about how things are going to go and who is going to be in charge. Any group powerful enough to make this media heel is a high echelon of power with the ability to use the media to create an artificial reality wherein, perhaps, dirt poor Libyans and Egyptians take time out from scratching for food, while avoiding offending the dominate jihadi groups, to use social media and troll You Tube for hours to find "offensive videos" as an excuse to commit violence and mayhem. At the same time, North Korea becomes a technological powerhouse so scary we all start sleeping with a night light until the government restricts access and use of the Internet, which is something the government has wanted to do for a long time.
The lack of coverage about Peter Lanza isn't the only problem confronting the Sandy Hook narrative that indicates a problem with the media. The official police reports about the mass killing are chock full of them. If I had been a victim survivor, the content and quality of the reports, along with the apparent lack of aggressive follow-up, would have me so outraged that I wouldn't have time to take trips abroad to Turks and Caicos, expound about gun control, start a bunch of fund raising Web sites, fight with siblings about what to do with donation money, lie on social media about having access to the crime scene photos (and have to take it back later on Piers Morgan), stump for worthless (Is there another kind?) politicians, or travel several times to the White House. Over 140 bullets out of 154 allegedly fired in commission of the crime are recovered and not one of the bullets has markings that match the markings from the barrel of the Bushmaster rifle. This means there is no ballistics case. An envelope was recovered from the alleged Adam Lanza bedroom in the alleged Lanza house. The envelope was addressed to "The Students of Sandy Hook Elementary School." DNA testing showed Adam Lanza did not lick the envelope to seal it. A known felon from the State of New York had his DNA on the envelope. Ask yourself why the dog didn't bark about that little tid bit. Then, the Peter Buhrmaster alias Lanza used indicates that Lanza is related to a Melanie Buhrmaster-Bunch, who was identified as the first cousin of the late Sandy Hook Elementary School Principal, Dawn Hochsprung, an alleged victim of the purported mass shooting. See? Peter Lanza should have been right on the media's radar from the beginning, but the lack of interest on the part of the "mainstream" media was a-thunderous.
Yes, I know Lanza was allegedly interviewed by some guy from New York magazine, but there is no way to verify if that claim is even true. Apparently, Lanza requested the interview, if it actually took place, so, unless the Great Peter Lanza deigns to speak to the media, the media doesn't know the guy even exists. Again, some people think Peter Lanza is a fictional character. It is hard to blame them.

REVISITING THE SONY HACK
Entry Date: December 28, 2014
Yes, I know the FBI has reversed its original theory that the Sony hack was an inside job, as there are many disgruntled employees at the embattled studio who have more knowledge of the Information Technology infrastructure than anyone in North Korea. I am not the only one who still thinks it is an inside job. Kurt Stammberger, senior vice president at Norse, a major cybersecurity provider, stated flatly: "Sony was not just hacked. This is a company that was essentially nuked from the inside."
Besides, how could North Korea, which cannot even keep lights on at night, pull off a hack that devastating? It is interesting that it was just in time to promote new legislation that could endanger Internet freedom once again. North Korea couldn't hack its way out of a paper bag, and the whole "It was The Interview movie. It offended North Korea," sounds too much like claiming that, all of the sudden, Libyans, in the aftermath of an infrastructure-wrecking civil war, and continued internal turmoil, its economy wrecked, had a massive number of people trolling You Tube to watch Innocence of Muslims just so they could get offended. No one ever produced the Internet traffic statistics on Innocence of Muslims showing large numbers of Libyan viewers to support that one, and I doubt anyone in North Korea has any idea that The Interview even exists. In fact, this "They saw a video on YouTube and it made them crazy," or "The cartoons offended them, so they got violent. You know how crazy those people are," are getting to sound-well-sort of contrived. After all, most people in North Korea, and ruined countries like Libya, are too busy foraging for food like squirrels to go to an Internet cafe for WiFi access. After all, restricting access to information is what dictatorships are all about! We should remember that when those Internet control measures hit Congress for consideration.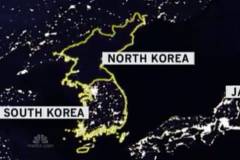 I rest my case.

FREE STEPHEN GLASS: THE MAINSTREAM MEDIA BLAMES NORTH KOREA FOR THE SONY HACK. DON'T YOU BELIEVE IT
Entry Date: December 19, 2014
Note: Stephen Glass is the name of a disgraced writer for The New Republic magazine who was fired once he was exposed for making up almost all of his stories. The incident was chronicled in the HBO movie Shattered Glass. Society seems intent on never forgiving Stephen Glass for his wrongful behavior, but seems to ignore similar incidents in today's "Mainstream" media. This series, Free Stephen Glass, exposes more recent media deceptions, manipulations and abuses that are analogous to those Mr. Glass was punished for a decade ago. If Glass is going to be kept from gainful employment for life for deceiving the public through mass media, I don't think he should be consigned to this media hell all by himself, or, he should be let off the hook like all the others.
Once again there is no effort on the part of the establishment media to check out anything officaldom tells them, showing no regard whatsoever with accuracy. In the meantime, Stephen Glass isn't allowed to do much of anything because, once upon a time, Glass wrote fiction for The New Republic and passed it off as real. Nothing Glass wrote hurt anyone, while this story could get millions killed in a war, or, perhaps, sink a large company and cause thousands to lose their jobs. People will have to decide for themselves which is worse.
FREE STEPHEN GLASS!

BACK OFFICE BLOG