BACKBLOG ARCHIVES 17
SEPTEMBER 16, 2016 TO SEPTEMBER 24, 2017
MINI CONCERT: CARLY SIMON
Entry Date: September 24, 2017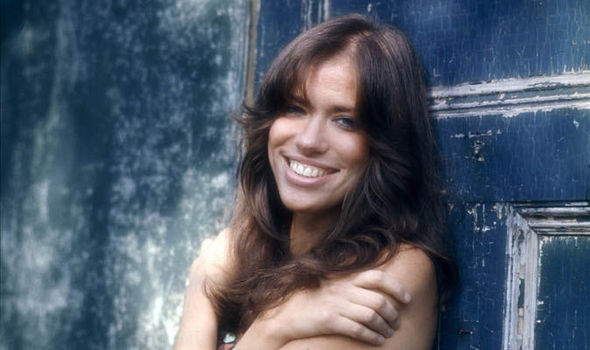 Carly Simon, sometime in the 1970s.
This latest review of the popular music of the last 70-80 years is Carly Simon's recordings that span from 1972 to the present, but this collection is concentrated in the 1970s through the 1980s. The songs are listed from my number one favorite to one I still like, but not as much as the others.
I HAVEN'T GOT TIME FOR THE PAIN (1974)
COMING AROUND AGAIN (1989)
LOVING YOU IS THE RIGHT THING TO DO (1973)
NOBODY DOES IT BETTER (1977)
LET THE RIVER RUN (1989)
YOU'RE SO VAIN (1972)
VENGEANCE (1979)

UNDERAPPRECIATED FILM: FORT MCCOY
Entry Date: September 24, 2017
I ran into another underappreciated, and underreported, independent film just this past Friday. This is the 2009 film Fort McCoy, which is based on a real story about a family that moves to Fort McCoy in Wisconsin during World War II. The father, portrayed by Eric Stoltz, accepts the job as a barber at the fort's prisoner of war camp as he was turned down for service in the regular Army. The family is of German heritage who had originally settled in Iowa, and they do get some verbal abuse from some soldiers for being of German descent, although those scenes are few. What the viewer is lucky to experience is a truly human story that is seen through the point of view of Gerta, the youngest daughter of the family. The mother's sister moves with the family to Fort McCoy, and takes a clerical job on the base where she meets a veteran of the Italian campaign in late 1944. A romantic relationship begins between them, a Jewish-American soldier, suffering from what we now know as PTSD, and the Roman Catholic girl. This film has a bittersweet quality-more sweet than bitter- that makes it memorable, or at least makes a film memorable to me. After Kicking and Screaming, I didn't need any more convincing of Eric Stolz being a good actor, but Fort McCoy sure helps cement the case.
The official trailer is embedded below.

MINI-CONCERT--THE CARPENTERS
Entry Date: August 11, 2017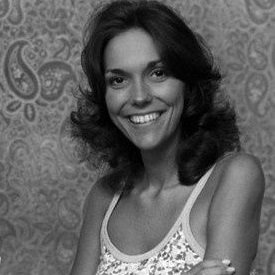 Karen Carpenter about 1976.
Most of the Carpenters' songs I relate to the 1970s, although they started recording in the late 1960s and continued until 1983, when Karen Carpenter died. The following links to the YouTube videos of these songs are my personal favorites in order along with the year the songs peaked on the charts.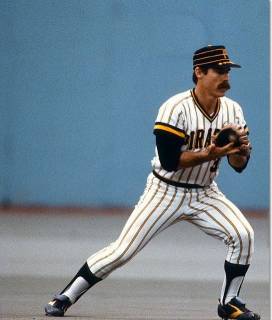 1. ALL YOU GET FROM LOVE IS A LOVE SONG--1977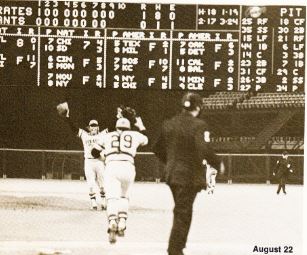 2. GOODBYE TO LOVE--1972
3. IT'S GOING TO TAKE SOME TIME--1972
4. I NEED TO BE IN LOVE--1976
5. ONLY YESTERDAY--1975
6. I WON'T LAST A DAY WITHOUT YOU--1972
7. TOP OF THE WORLD--1972
8. PLEASE MR. POSTMAN--1975
9. MAKE BELIEVE IT'S THE FIRST TIME--1983

TAKING A BREAK ON PIPELINE ALLEY
Entry Date: August 1, 2017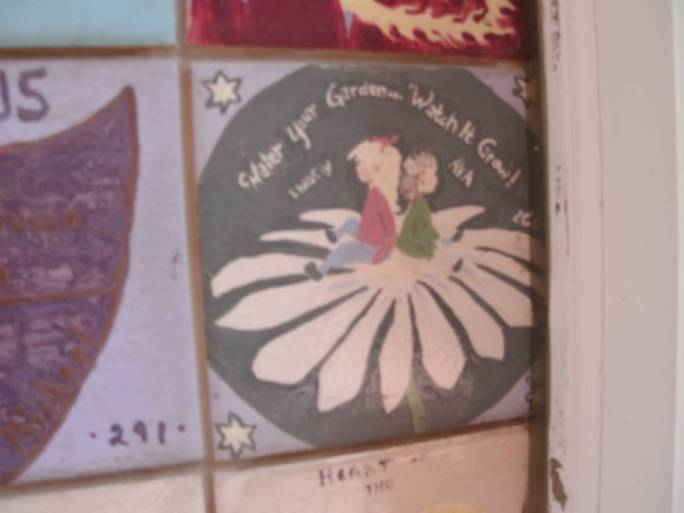 "Water Your Garden. Watch it Grow."
This tile for a mosaic that was right next to the bench where I enjoyed a recent Pipeline Alley concert made me wonder what Lindsey and Ava were doing now, in 2017.
For a few years now, Oil City has had free lunch time concerts in Pipeline Alley on Northside, the old business district. I have finally attended some of those this year, and noticed some of the sights of Pipeline Alley, which is in the center of the Art District alongside the Transit Building which houses the galleries and work shops of several artists. Back in 2000, there was a project for individuals, families, and organizations to design some ceramic tiles that would be incorporated into mosaics that would be displayed in Pipeline Alley. This project was a mirror of the sidewalk bricks that were covered in a previous post on this blog. I spent some time after some of the concerts to examine the mosaics and to photograph them this past Saturday morning.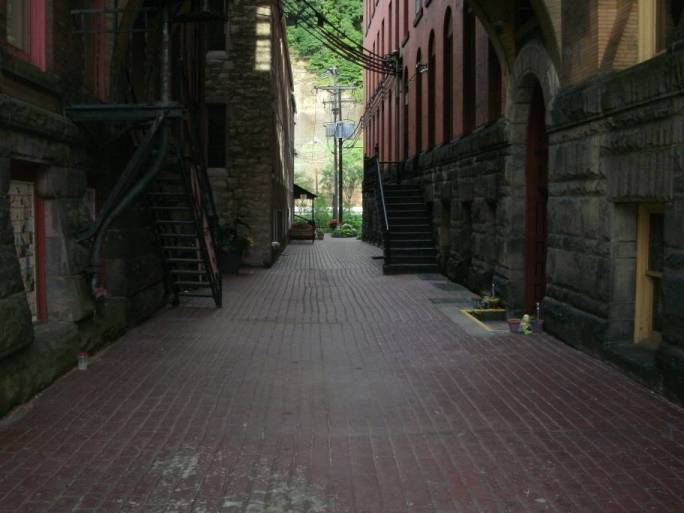 SOME HISTORY OF AMERICA'S MOST BIZARRE PRESIDENTIAL ELECTION--2016
Entry Date: May 16, 2017
In a lot of ways, the 2016 election for President was the most bizarre ever, and that's saying a lot. We've started the research series about the election, but are running it as a "sidecar" to the blog as it would take up too much space in here. We are starting with an examination of the three computer networks that had the most impact on the campaign, beginning with the Democratic National Committee (DNC) network, which was allegedly hacked by agents of Russian civilian and military intelligence. There are facts in this article that will surprise you. Most people think they know this story. After researching it for months, I still find there is one key piece missing. I need verification that Julian Assange of Wikileaks announced possession of the DNC emails sometime in April or May 2016. There was one annoucement on British television on June 12, 2016, but I still suspect, but cannot verify, that he spoke about it earlier than that. The visitor will find there is much they did not know about this alleged hack, as the news was dominated by the alleged Orlando Pulse Nightclub mass shooting that broke on June 12, 2016.
THE DNC SERVER AFFAIR--PART ONE
INDEX PAGE FOR AMERICA'S MOST BIZARRE PRESIDENTIAL ELECTION

ELECTION 2016 AND WIKILEAKS' VAULT 7
Entry Date: April 25, 2017
It has been a while since I last posted in here. The reason for it is simple: I have been working on a history of the 2016 Presidential Election, but it has not really ended. It is still being fought in the Mainstream media, the "Alternate-Media," in hearing rooms on Capitol Hill, in the halls of the national security bureaucracies that comprise the "Deep State," in the streets of the United States, and in the headquarters of the Democratic and Republican Party National Committees. The most bizarre election on record, with two distant cousins representing each party, which was also the case in the 2004 race between cousins Bush and Kerry, just demonstrated how mature this confidence game has become. Yes, Trump and Hillary are distant relatives, and, as we will see, very close friends in the past. Actually, if you study the record carefully, you will find there is not much of a difference between them in ideology. It is just that, as Hillary once said in one of her once-secret speeches to big Wall Street banks, each candidate had public and private positions that were polar opposites. One thing we have learned in the aftermath of the balloting part of the "campaign" is that there is such as thing as a "Deep State," or "Shadow Government." The latter term showed up on one of John Podesta's leaked emails on Wikileaks. The video below, which analyzes the contents of the recent Wilileaks dump titled "Vault 7," the largest trove of CIA documents ever made public by a private entity, we can see that what the government does when we are not looking is radically different from what is sold to us by Mainstream Media. Some political partisans will not like this first video embed, as one party's sins will be highlighted, but be patient. In a couple of days there will be something bad about the other party. Besides, all of the investigations aren't finished yet, so there will be more dirt on both of them. The parties are totally corrupt, and that is the cause of most of what people lament today. We fight about Obamacare, but in the meantime there are still 29 million people without the insurance, for example, so the law did not help except to rearrange the suffering. It won't get solved until both sets of partisans admit the parties are hopelessly corrupt and lie all the time as a matter of course. The lies wouldn't last long, maybe as long as a snowball in a blast furnance, if the media did not cover for them. The media are all hopelessly corrupt as well. Being in denial will not do anything to correct this, and every problem we face will only get worse until we admit that we are being duped by one of the oldest con games around--"Divide and Conquer."

THE DEATH OF SETH RICH, IT PROFESSIONAL FOR THE DEMOCRATIC NATIONAL COMMITTEE
Entry Date: March 5, 2017
In one of my first posts in a more than a month, I mentioned that one thing that had distracted me was researching the tragic murder of Seth Rich back in July 2016. Mr. Rich was employed in the Information Technology (IT) Department at the Democratic National Committee (DNC) in Washington, DC when he was shot to death in his DC neighborhood in the early hours of the morning of July 11, 2016. The DC Police suspect that Seth Rich was the victim of a failed robbery as there had been a rash of street robberies and break-ins in that neighborhood. With the alleged hacking of the DNC's computer network by Russian intelligence agencies GRU (Russian military intelligence) and FSB (civilian intelligence), there have been rumors and conspiracy theories about Seth Rich's death, which is still an unsolved homicide.
The family of Seth Rich hired DC attorney Jack Burkman, a frequent interview guest on the Newsmax cable channel and YouTube channels, to deal with the various conspiracy theories and to manage the family's offer of a reward for information about the unsolved homicide. In addition to being an attorney and a commentator on cable news and internet sites, Jack Burkman is involved in Republican Party politics. About a month ago, Burkman began interviews on various alternate news sites, such as Infowars.com, about the murder of Seth Rich. Burkman claimed, in one interview, that a former intelligence professional told him anonymously that Seth Rich was murdered by Russian intelligence, acting on direct orders from Vladimir Putin, President of Russia, or whatever Putin's title is. Putin's reason for wanting Seth Rich dead was, according to Burkman, that Seth Rich was the "only person in the DNC that knew about the Russians hacking the DNC," so Putin ordered Seth Rich's murder to cover up Russian involvement in the hack.
Immediately after I watched one of these interviews, I started researching the Russian hack of the DNC. The facts found in a Washington Post article about the hack, written by Ellen Nakashima, were very revealing about a number of questions about the alleged DNC hack. I have taken to calling Ms. Nakashima's article "The Rosetta Stone of the Russian Hack" as it represents the freshest information about the subject, and has been forgotten as this story has morphed over the intervening months. It is required reading about this subject, but I will focus on the Burkman allegations for this article. Burkman's story is easily proven to be completely false, and so totally irrational, that no real intelligence professional would have tried to peddle this nonsense unless the former spy, or analyst, is suffering from some kind of dementia. While this article is dedicated to refuting this stupid story, future articles will address this hack as it impacted on the election campaign as part of the series about the 2016 campaign that will come out in the coming weeks and months. This might be the best point to start it.
The only way Burkman's story could be true would be if Seth Rich, as of the date he was murdered, July 10, 2016, was "the only DNC employee who knew the Russians hacked the DNC." Using the article by Ms. Nakashima, I constructed a timeline of the Russian hack and the death of Seth Rich. The timeline is produced below.
April 2016: "DNC leaders were tipped to the hack in late April. Chief executive Amy Dacey got a call from her operations chief saying that their information technology team had noticed some unusual network activity."
"That evening, she spoke with Michael Sussmann, a DNC lawyer who is a partner with Perkins Coie in Washington. Soon after, Sussmann, a former federal prosecutor who handled computer crime cases, called Henry, whom he has known for many years."
"Within 24 hours, CrowdStrike had installed software on the DNCís computers so that it could analyze data that could indicate who had gained access, when and how."
May-June 2016: Crowd Strike, a cyber security service provider, continued their work for the DNC to expel the hackers from the DNC network. It was later estimated that the hackers were inside the DNC network off-and-on for at least one year (2015-2016).
June 14, 2016: Ellen Nakashima's article is published in the Washington Post. The article clearly establishes that the entire DNC team knew about the hack, in the form of tell-tale network anomalies, from the very beginning. Seth Rich was not the only DNC staffer to know about the Russian hack. Ms. Nakashima's article documents the findings of Crowd Strike that the hackers were Russians from both the GRU (Russian military intelligence) and the FSB (the civilian spy agency).
Ms. Nakashima's article describes the only documents Crowd Strike found to be exfiltrated from the DNC network were two files from the DNC's opposition research files about one candidate for the Republican nomination for President, Donald J. Trump. Reasons for the Trump information being the only document theft were described by intelligence veterans interviewed for the article. These intelligence veterans stated that the Russians were having trouble getting information about Trump. The sanctions over the Russian seizure of the Crimea region in Ukraine caused Russia to have problems getting information about Trump, so they downloaded the DNC's research about Trump. This means that, as of the spring of 2016, the Democratic Party knew more about Trump than the Russians knew. Emails and chats were read, but there was no mention in the article of any forensic evidence that the Russians stole the emails and chats. No donor or other private information was taken.
July 10, 2016: Seth Rich is found murdered on the streets in his Washington, DC neighborhood.
July 22, 2016: Wikileaks publishes the first of the leaked DNC emails
July 25, 2016: Deborah Wasserman-Schultz resigns as head of the DNC.
The fact is that the entire IT staff of the DNC knew that there was likely hacking going on in the DNC's network as early as April 2016. It was not just Seth Rich who knew about it. This alleged Russian hack was already made public nearly one month prior to the murder of Seth Rich, which means the claim that Putin ordered Seth Rich's murder by Russian intelligence in order to "silence" Seth Rich, and cover-up the hack being done by Russians, is patently false. Seth Rich was not the only DNC employee to know about the Russian hack. Murdering Seth Rich would not cover up any Russian hack as his murder took place nearly a month after the Russian hack was made public in the mainstream news media of the United States. Not only that, but by the time Putin got around to having Rich murdered, the entire world had known for a month that the DNC was claiming Putin had them hacked. There is no way killing Seth Rich covered up anything the Russians allegedly did in the hack. Therefore, the motive Burkman's source allegedly claimed for Putin ordering Seth Rich's murder should have been obviously false to anyone who performed even rudimentary research into the alleged Russian hacking of the DNC network. This is why I called the story "stupid." I cannot fathom an intelligence professional, with anything like a sound mind, trying to sell it. It takes about ten minutes to completely deconstruct it.
As a fellow IT professional of Seth Rich, I call on Mr. Burkman to cease repeating this story immediately as it has now been refuted beyond any reasonable doubt. Continuing to spread this story does nothing to achieve the objectives for which the family of Seth Rich engaged his services. Using the excuse that this story is just what some unnamed source told him, and Burkman is just (in effect) putting it out there for comments of some kind, will no longer suffice as a reason for repeating it. The story is proven false and does nothing to help the Rich family get real answers, and thus closure, but does help roil the political waters, which was not the reason the Rich family approached him in the first place.
This needs to stop----NOW.

MAKING THE CONNECTION---FROM THE SOUNDTRACK OF JACK REACHER-NEVER GO BACK
Entry Date: February 18, 2017

CHRIS PRONGER, FORMER FLYERS DEFENSEMAN, RUBS OUT JUSTIN BIEBER (YES, THAT JUSTIN BIEBER) IN A CELEBRITY EXHIBITION GAME
Entry Date: February 5, 2017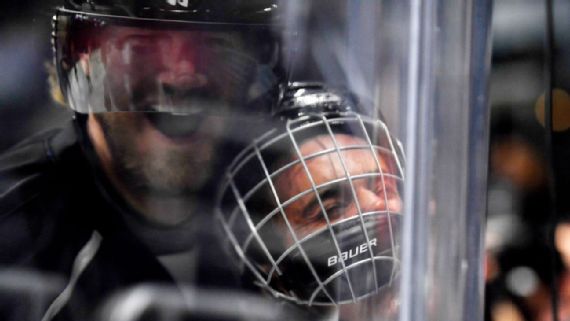 Chris Pronger buries Justin Bieber into the glass during celebrity exhibition hockey game.
Hey, Pronger!
I used the salutation, "Hey, Pronger!" because I thought that it would have a comfortably familiar ring to you, sir. After all, how many times did you hear similar calls from opposing players, like a slick center you decked on the blue line, or a right winger who got a face full of your glove? "Hey, Pronger, you !#%***+#!
When I saw the photograph of your hit on Canadian pop star, Justin Bieber, and heard that you voluntarily fined yourself the princely sum of five dollars for what you obviously felt was an achievement that no other retired defenseman had ever attained, it impressed me. You rubbed out His Bieberness. Now, I need to know if you had a bet going between the Americans and the Canadians that the United States would now have to take Bieber after you totaled him. This is not something that a lot of us desire to see happen. Check out the You Tube Video below.
Now, I have respected you as a player ever since you did all you could to stop every star forward the Penguins put on the ice. It didn't matter how many goals they could score, you did all you could to frustrate them, hit them, and eliminate them as threats to the Flyers. Whenever you were working a shift, we knew the big guns were going to have to work for a living. When it comes to Bieber, I think there is something you should know, Pronger. I hope you will not be too disturbed by the next You Tube video involving Bieber, but I think you should know that there are some people out there who have a very unorthodox, and maybe somewhat eccentric, opinion about Justin Bieber. Basically, they think Bieber is...well....a GIRL.
Tell me, did you see that one coming?
And, finally, my most important accolade for your take down of Justin Bieber. There are many social commentators who have decried the idol worship of Justin Bieber by millions of teenaged Americans and Canadians known as "Bieliebers." The next video is by one of the more outspoken of these social observers who think idol worship of Bieber could mean the end of Western civilization. Maybe Trump will give you the Medal of Freedom.

THE NEW YEAR
Entry Date: February 5, 2017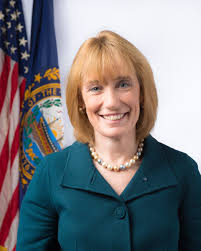 Maggie Hassan, First Year Senator from New Hampshire
Yes, it has been awhile since I posted anything in this blog. There are some reasons, the first being that there were some unexpected events that slowed down my work on the "Election of the President, 2016" series. First came the recounts, which very few outlets were covering in detail, but I finally found two of them. The second was the use of the "Russian Controversy" to challenge Donald Trump's legitimacy, which drove me to research the DNC hack in some detail. In fact, I was able to resolve an issue that the attorney for the family of Seth Rich, a DNC employee who was murdered in a Washington DC neighborhood in early July of last year, raised in a radio interview involving yet another allegation about Vladimir Putin and Russia. Namely, that Putin ordered Seth Rich murdered, as was told to the attorney anonymously late last year. I was able to prove that the story just was not possible in light of the known facts about the alleged hack of the DNC. So, it is not like I've been doing nothing. Another thing I've been doing is visiting doctors a lot, or at least relative to how often I normally choose to visit a doctor it has been a lot. I had my first CT Scan this past week, and nothing wrong was found in the imagery. Now, they want to do a probe, so that is coming up later. Then the Christmas holiday preparations and activities took up a lot of late November and the first three weeks of December. January was just blut with temporary Irritable Bowel Disease from taking a battery of Cipro for a month. I've almost have that back to normal. So, it has been interesting. We'll see what's next, but, in the meantime, I have done a lot of the legwork for the election series and hope to get it restarted and completed. I did find out that there was no excuse for the bad polls. President Carter's pollster, Pat Caddell, knew Hillary's campaign was sinking in early October and said just that heading into the stretch run. I'll also cover some new faces in the Democratic Party, including one who just might end up finally breaking "The Glass Ceiling." Twenty years ago, I thought some Republican women might do that, but they didn't. I will try not to jinx the Democrat women.

A BOB ROSS "SPARKLER"
Entry Date: November 26, 2016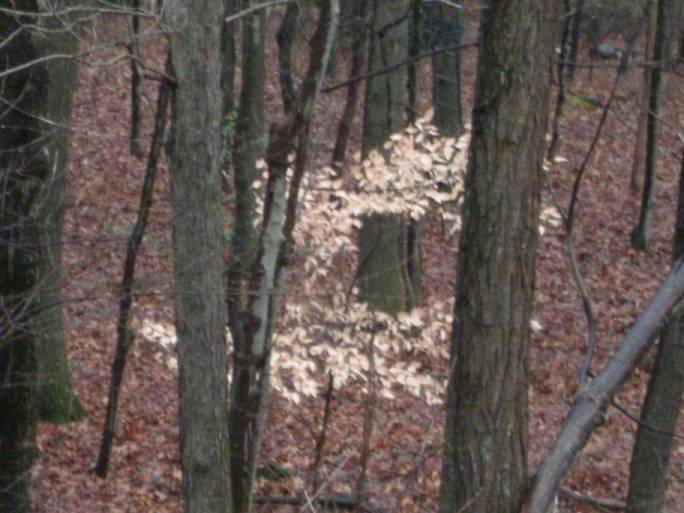 I discovered the bush with the cream colored leaves that really stood out in the woods below Plummer Street. The painter, Bob Ross, would have called it a "sparkler."

THE MAKING OF THE PRESIDENT--2016
PART ONE--WITH FRIENDS LIKE THESE, HILLARY DIDN'T LACK FOR ENEMIES
Entry Date: November 13, 2016
Hillary Clinton on the campaign trail, 2016.
The Hillary campaign was either completely incompetent, or people like John Podesta, the Hillary Campaign Chairman, who never said much of anything nice about Her Majesty in his pilfered Wikileaks emails, hated her even beyond such remarks by Podesta and colleagues as:
1. Calling Hillary "psychotic."
2. Attacking Hillary's judgment and her instincts.
3. Accusing Hillary of not knowing on what planet she is living.
4. Accusing Hillary of "smelling bad," like "boiling cabbage, urine, and farts."
The above list is not exhaustive as there were many other terrible insults and condemnations of Hillary by people who claimed they wanted her elected President. I could imagine how Hillary might have felt if she read any of those documents available in Wikileaks. Such betrayal is hard for anyone to stomach. Now, Podesta calling Hillary a "psychotic" means one thing to me. Podesta's job was to arrange for a "psychotic" to get access to nuclear weapons. Think about that one for awhile.
The Fake Polls
The campaign "geniuses," who produced the defeat, decided to attempt to suppress Trump voters from bothering to go to the polls on November 8th. This was attempted with mainstream media polls that contacted considerably more Democrats than Republicans, creating Hillary leads of up to 11 points over Trump. Media pundits wondered out loud for days---"How big would Hillary's victory be?" The MSM even tried to gauge how many Democrats would be elected to the House and Senate from Hillary's great victory. States that had not voted for a Democrat for over a decade, like Texas, were suddenly "too close to call." The idea was to spread defeatism among the Trump voters, and keep them from bothering to cast their votes. The scheme had the opposite effect. The Clinton vote was suppressed as Her Majesty's supporters were sure she could not be defeated, and Hillary was trampled by the stampede of "Deplorables" headed for the voting booth.
In addition to the failure of the fake polls to suppress the Trump vote, Bill Clinton thought it was a capital idea to denounce Obamacare, which is dead, but still walking around, as "the craziest thing," ever. Clinton's ridicule of Obama's chief legislative legacy got picked up by a committee backing Trump. The commitee produced an Internet ad that was played over and over on YouTube for a week before the election. Obama might have been retaliating against Bill Clinton for his attack on Obamacare when he opined to a youthful interviewer, about two days before the election, that illegal aliens could vote without fear of anything happening. In addition, the President stated that, when illegal aliens vote, they are "citizens." Can you imagine how that aroused Trump voters to get to the polls? A Trump voter, 15 miles from the polling place with his car broke down, upon hearing Obama invite illegal aliens to vote, would probably go vote even if he had to start walking the night before. It's just my opinion, but I think Obama was retaliating against Bill Clinton for taking a dump on Obamacare while it was lying in the grave with no dirt yet shoveled on it.
This crap from Van Jones, yet another CNN gasbag, that the Trump vote was a "Whitelash," by evil white people, is beyond bankrupt. It's just stupid. I already laid the blame for Hillary's loss, accurately, at the feet of Podesta's mob in Hillary's campaign and the mainstream media themselves. There is no way Obama gets elected twice without a majority of these same white people Jones condemned. The whites Jones hates were the people who voted twice for a black President and, for some unfathomable reason, keep giving him favorable performance ratings while Obamacare burns down the entire economy. Let's not hear anymore ridiculous lies about these voters who put Obama in the White House twice. I think the MSM has done enough to embarrass itself as it is without this nonsense. Another thing I can't fathom is why Van Jones would be angry at white people who voted for a black man twice, but refused to vote for some senior citizen white woman. It makes no sense. Jones, like most of the corrupt mainstream news media, was either reading from a script, like some crisis actor at another staged, fake news story, or he must have had a bet on Hillary because he believed his own network's lies that Hillary was on her way to a landslide. Hillary's voters believed in the landslide, too, and enough failed to go vote for her as a result.
Hillary needed every vote she could get because she was never really in the race. Don't worry. I can prove that. Hillary was always a weak candidate, a fact exposed by Old Man Sanders all through the spring of 2016. What is more, Hillary knew all about her weakness, and developed a strategy to overcome it. The major part of this strategy is being held out until the next installment of this report. We'll start with the empirical evidence already on the record from the start of the campaign. Remember Sanders whipping Hillary in the Michigan Democratic Primary? Mainstream media polls said she would win it by 12 points or more. She lost by 1, a difference of -13 points. Sound familiar? Hillary, who was colluding with the Democratic National Committee (to be covered in Part 2, "In the Age of Wikileaks") to sabotage Old Man Sanders, had already experienced in the primaries what she experienced in the general election against Trump. The polls she cooked up with the media were never going to hold up as long as Bernie Sanders' supporters voted. Hillary was upset in Michigan by Bernie Sanders as she was upset by Trump in the general election, because her polls were always lies that emanated from the corrupt, pro-Hillary news media. This was all exposed in the Wikileaks emails as the Hillary campaign people dictated to the media to skew their polls by sampling far more Democrats than Republicans. This resulted in the inflated leads the media gave Hillary by the final days of the campaign.
With the fake polls she used against Trump, Hillary was repeating a tactic she tried in the primaries against Sanders that failed. In the California primary, a Michigan upset was going to happen again, as Sanders started immediately attracting 30,000-60,000 people at every rally in California, while Hillary had trouble filling high school gymnasiums. Hillary and the DNC knew Sanders would win California, so they just stole the thing, and horse traded until all the Super Delegates were Hillary's. Her Majesty would not be denied in 2016, as she was when the unknown upstart, Barack Obama, kicked her ass in 2008.
A Systemically Weak Candidate
She was a weak candidate in the 2008 primary run. Hillary lost to a half-term freshman U.S. Senator from Illinois, and she was a weak candidate in the 2016 primary run against Sanders. A weak candidate in the nomination phase is frequently weak in the general election. Hillary Clinton was a weak candidate who could not afford to have one vote suppressed if she wanted to win. Her own "cooked" polls, supplied obediently by the rigged news media, could very well have made Hillary's voters complacent enough to stay home in significant numbers, convinced Her Majesty would win in a landslide.
Hillary was a Clinton and the potential "first woman President," and that was about it. The fact that she was a weak candidate is further evidenced by the lousy turn-outs for her "rallies." Her chosen running mate, TIm Kaine, couldn't get arrested anywhere he went. The only way he could get an audience would be the arrival of some wandering homeless guy, out foraging for cans and bottles for recycle money, just stumbling onto a Kaine "gathering" (no way it's a rally) and fattening the audience a bit. Trump's rallies were overflow crowds in stadiums that could hold 30,000 or more, just like Bernie Sanders' rallies. If Sanders had been the nominee, there is no telling which "change" candidate might have won. Hillary was the candidate of the status quo, and in an election year when people were looking for "change," the status quo candidate has all the chance of a snowball in hell. Hillary made a fight of it, though.
In Ohio, a millenial-age reporter, Millie Weaver, discussed working for Hillary as a volunteer with local campaign workers. It was part of an undercover effort to gauge what was really going on with the campaign in Ohio. Ms. Weaver found that Hillary's people were having problems getting volunteers to work the campaign. There was no enthusiasm for Hillary at all. The media tried to create some, but they failed miserably, and with Wikileaks exposing so many journalists as secretly working for Hillary, the independents and Trump supporters saw through the media efforts to pump up Hillary's campaign as being propaganda, and ignored them. Hillary was swamped by a tsunami of "Deplorables."
NEXT: "IN THE AGE OF WIKILEAKS: THE AMERICAN PEOPLE SEE THE REALITY BEHIND THE FACADES OF POLITICAL CAMPAIGNS"

MEMORIES OF EARLY 1974
Entry Date: November 6, 2016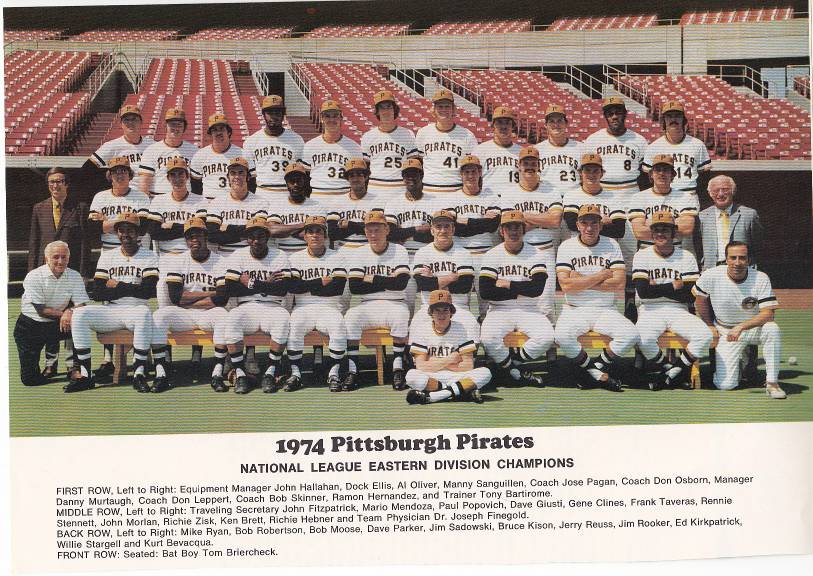 In January 1974, I entered my last year in college, Grove City College in Mercer County, Pennsylvania. You really can't believe how fast something like that can be over until it happens. I collected the longest list of songs I remember from this time. Included are Aretha Franklin, Maria Muldaur, Elton John, Carly Simon and James Taylor, Paul McCartney and Wings, and a couple of the very earliest Disco songs. Hope you enjoy them, and they bring back some good memories for all of you.
TIME WILL TELL--TOWER OF POWER
This first song is dedicated to all the 1974 graduates of Grove City College.
JIM DANDY TO THE RESCUE--BLACK OAK ARKANSAS
UNTIL YOU COME BACK TO ME (THAT'S WHAT I'M GONNA DO)--ARETHA FRANKLIN
MIDNIGHT AT THE OASIS--MARIA MULDAUR
LET'S GET IT ON--MARVIN GAYE
BENNIE AND THE JETS--ELTON JOHN
MOCKINGBIRD--CARLY SIMON AND JAMES TAYLOR
BAND ON THE RUN--PAUL MCCARTNEY AND WINGS
DANCING MACHINE--JACKSON 5
I JUST DON'T WANT TO BE LONELY--THE MAIN INGREDIENT
TSOP--MFSB
COME AND GET YOUR LOVE--REDBONE
DARK LADY--CHER
THE SHOW MUST GO ON--THREE DOG NIGHT
HOOKED ON A FEELING--BLUE SWEDE
THE STREAK--RAY STEVENS
I'VE BEEN SEARCHING SO LONG--CHICAGO
ROCK THE BOAT--HUES CORPORATION
TOWER OF POWER--DON'T CHANGE HORSES IN THE MIDDLE OF THE STREAM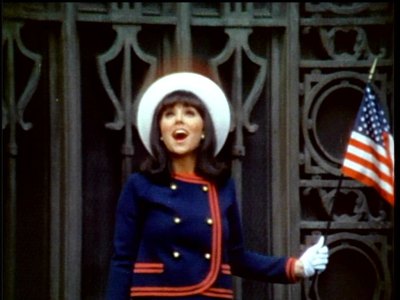 WILLIAM BINNEY, NSA WHISTLEBLOWER--THE PRESENT TOTAL SURVEILLANCE STATE: YOUR GOVERNMENT IS SPYING ON YOU
Entry Date: September 23, 2016
There are several interviews and speeches by William Binney, a former high level manager and crypto-analyst with the National Security Agency, which warn the American public about the existence of a total surveillance state in present day America. You have no privacy as every phone call, every email, every text, and every social media post is being captured and stored in NSA databases. Those databases have been accessed by federal law enforcement, contrary to federal law, and used to make criminal cases. The law enforcement agencies just falisify the reports they submit to the courts when seeking arrest and search warrants claiming that the evidence came from a source other than the NSA database. When companies order new routers and switches for their networks, many of the shipments are intercepted by the spy agencies gone wild who then load the routers and switches with firmware and software that make the NSA an owner of the devices, opening up all of the target companies' data to the spy agency. These things happen all the time, and they should not be happening at all. Backdoors are demanded to be placed in every system so that federal agencies can either ask to come in, or just come in whenever they want. The backdoors are making all of our systems vulnerable to private hackers and the hacking assets of foreign governments. As we have seen, some in the political class, such as Hillary Clinton, paid a price for this total surveillance system when her emails, including some she thought she destroyed, came back to haunt her. Mr. Binney thinks it could likely have been someone in NSA, or someone in government with access to NSA data, who took the emails of Hillary and the Democratic National Committee (DNC). That scenario is more likely than any outside source doing the hacks. Insiders are always considered the more likely suspects in any of these cases until an investigation points somewhere else. As Secretary of State, Mrs. Clinton knew about the total surveillance system imposed on workaday citizens, but must have thought she was exempt. In reality, political class members will find that the surveillance state can wind up hoisting them on their own petard.
To better understand the gravity of the government's total surveillance network through the NSA, this post includes two interviews with William Binney and NSA whistleblower Tom Drake. The plans are to extend this surveillance network WORLD WIDE as someone in the government seeks to be as omnisicient and omnipresent as God himself. This is more power than any good person would ever want, and more than any bad person should ever have.
POPULATION CONTROL IN THE TOTAL SURVEILLANCE SYSTEM
TOWARD THE NEW WORLD ORDER

REVEALED: WHY DONALD TRUMP RAN FOR PRESIDENT, THE INSIDE STORY
Entry Date: September 16, 2016
Yes, you are getting it here first, the real reason why a billionaire like Donald J. Trump decided to run for President of the United States. Since all stories start somewhere, this one starts just as candidates were declaring for the Republican nomination for President, in early 2015, on the first tee at Saint Andrews Counrty Club in Scotland. Donald Trump's golf cart stopped at the first tee, and the billionaire got out of the cart to find that Phillipe Dubois, a neo-Plutocrat of the Eurotrash set, was just getting ready to move on to the fairway after teeing off. Dubois smirked at Trump.
Dubois: Are you going to run for the Republican nomination this year, Trump? You chickened out last time and endorsed that terrible bore, Mitt Romney. Is that his real first name, by the way?
Trump: I didn't chicken out, you dumb @#&&*+! I had better things to do. Who cares what Romney's real first name is? He's a lo-o-o-o-oser, a real stiff. Yuge stiff!
Dubois: You shouldn't run this time. That Jeb Bush will run. I bet that Bush kicks your ass.
Trump: Oh, really? You care to back that up? I'll bet you I'll bury Jeb Bush in a month or two. He's so low energy it might only take two weeks.
Dubois: I have five hundred million dollars that says you can't win the Republican nomination.
Trump: That's a bet! You better be able to cover, because I want the dough one week after I accept the nomination. One week later and right here on the first tee.
Dubois: Oh, very well, Donald, but you better have the money, because you will lose. Ta-ta. (The Eurotrash's golf cart sped away).
Trump (calling after the moving golf cart): You @!$%&***+!
THE GOP NOMINATION CAMPAIGN -- January 2016 - May 2016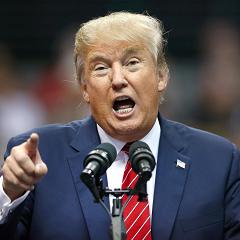 "Low Energy Jeb! Lyin' Ted! Little Marco! John Who? Jeb Bush is down in the grave. He's nowhere. Ted, my wife's hot, but yours is probably a crook! Ted's old man was Lee Harvey Oswald's buddy!"
"CENSORED!"
"BLEEPED!"
"@@$$##***!!!"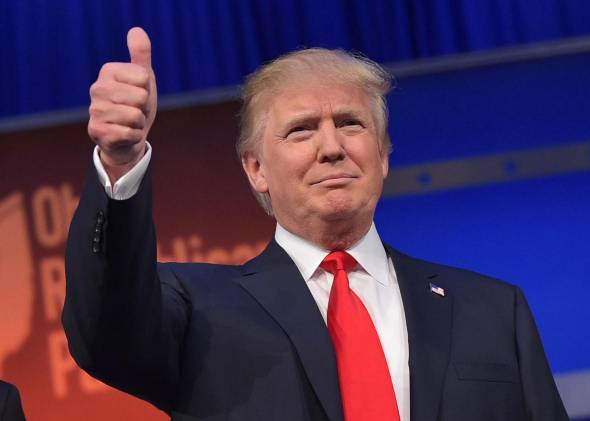 TRUMP WINS GOP NOMINATION! ACCEPTANCE SPEECH TONIGHT!
One week after the GOP convention, Trump is on the first tee at St. Andrews, confronting Phillipe Dubois.
Trump: Well, Dubois, you have my half-billion?
Dubois: Yes, but what about the election? Do you really think you can beat Hillary Clinton?
Trump: This was about the nomination. I won that, knocking out sixteen stiffs right off the field. Hand over the money.
Dubois: I bet you don't beat Hillary Clinton. That woman will kick your ass.
Trump: Why should I care? I just got a cool half-billion without breaking a sweat.
Dubois: What if the bet was if you lose, you pay me five hundred million. If you win, I pay you one billion dollars.
Trump: I can beat one little old lady who (bleeped) up Libya as Secretary of State.
Dubois (gets into his golf cart): I will see you one week after the election. You will owe me five hundred million because a little old lady will kick your ass.
Trump (as Dubois' golf cart speeds away): You @#&**++@@!!!
TO BE CONTINUED