BRIAN BURROUGHS
"BRI THE PIE"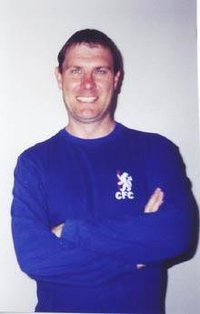 Brian Burroughs: English Transplant in the USA and frequent Tavern Visitor in the Geocities Days.

Brian Burroughs was one of our favorite visitors at Mary Stu's Tavern in the years the site was at Geocities (1998-2009). Brian was a prolific poster on the Guestbook there, which is archived in the Mary Stu's Tavern Museum sub-site. Brian is still a fan of Mary Stuart Masterson, but also enjoys a lot of other film performers and professionals, notably Clint Eastwood. I encountered Brian on Facebook, one of the earlier Web 2.0 services that started up while I was mostly absent from the Internet (2005-2009). Facebook helped me reconnect with Brian and Erin Lillis, the founder of the Fried Green Obsession Web site and a creative contributor to the Tavern. It was good to see those familiar names at the social networking site. We had a nice long chat in Facebook and have exchanged messages there. One of them reminded me of Clint Eastwood's movies with Clyde the Orangutan, like Every Which Way But Loose, the first from way back in 1978. Brian sent some poems he has been working on to honor his favorites in the movie business, and Mary Stuart Masterson was one of them. Brian gave me permission to highlight them on the Tavern, and I decided the best way was with a Special Event page that will be the first to highlight favorite visitors and contributors to this site, a sort of Hall of Fame.

Mad At The Moon & Benny & Joon.
     A new movie coming ? Hopefully soon.
     Radioland Murders - was barely seen,
            Yes you have fans, we're really quite keen.
       Stepford Wives was your debut feature,
      Taught by Dad who maybe your teacher.
         Uplifting, inspiring, you certainly are,
                 A girl of great promise, we'd knew you'd go far.
           Ruth Jamison, she was Idgie's best friend,
          Terrible though when she died at the end.
Married to It & My Little Girl,
         A few years later, you're Juniper Pearl.
      Spirit & soul, they come from within,
          Throughout your movies, you gamble & win.
  Embodying heart, courage & fight,
       Radiant presence, a room you do light.
           Some Kind Of Wonderful, an influence true,
                 On The 2nd Day Of Christmas, a present from you.
                                                 Nine sees you sing & you're Maggie The Cat, Mom is your role now, go enjoy that.
Brian Burroughs 5th September 2010

Fried Green Tomatoes
At The Whistle Stop Cafe,
Newnan it was where
Ninny did stay.
Idgie Threadgoode, the local bee charmer,
Embodying spirit, no one could harm her.
Frank Bennett, the vicious brute,
Lawman comes called Curtis Smoote.
A fabulous film & all from a book,
Grady's the sheriff, Big George the cook.
Georgia's the place where all our hearts lie, the day that I'm back I'll be up in the sky.
 

As rain must fall on slight of day,
And merry larks sing, extremly gay.
The world revolves on axis spot,
And memories return from time forgot.
These are words that stir my mind,
Creating an image that makes me blind.
These are the words, this is the song,
For Mary Stuart Masterson.
Distance becomes my utmost fear,
Life's mundane screw turns when you're near.
And though you barely know me at all,
I think you some kind of wonderful.
So take my hand, let's fly away,
To The Whistle Stop Cafe,
Through mountain chasms & turbulent sea,
The lovely lady, Idgie T.
And so time's great arms smother all,
And death awaits , a final call.
People & places forever change,
Chaos is coming, at close range.
Yet living is nothing without your light,
That shines a path through stormy night.
And when we're dead, all breath is gone,
We remember Mary Stuart Masterson

Motherhood came in 2009,
                   Adapting to that, I'm sure you are fine.
          Radiant you are, & always will be,
              Your career is in cinema, & also t.v.
 
                                 Something The Lord Made & Digging To China ,
                                  The Book Of Stars comes, there is nothing finer.
                               United with folks, making films with your Dad,
                        A good time on Horton's Lily Dale was had.
                    Rebecca you play, you're in Law & Order,
                                    The Postman you're in, but not Jack's The Border.
 
        Miranda Jeffries in Chances Are,
           At Close Range with Sean you star.
                      Saturday Night Live, you've been the host,
                       The Cake Eaters you did direct, not Ghost.
Entering The Actors Studio,
       Rain Man you were offered ? No.
                                  Stockard you've worked with, & Johnny Depp too,
              Olga, your part in The Sisters you do.
                                                                                       Nineteen sixty six, the year you were born, actor, director, both hats you've worn.
 
 
Brian Burroughs 
 
13th September 2010